Vancouver hospital sues foreign-born mother for $1m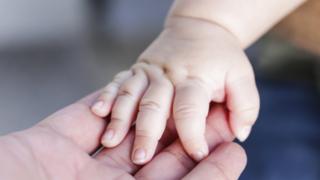 A Canadian hospital is suing a non-resident mother for C$1.2m ($930,000, £690,000) because she allegedly ducked her bill after giving birth.
Vancouver Health Authority claims the woman, Yan Xia, gave birth in Richmond Hospital in 2012 and never paid.
The lawsuit was filed in April, but neither Ms Yan nor her representatives have yet responded in court.
Birth tourism is a growing industry in Vancouver for mothers who want their children to have Canadian citizenship.
Court documents filed by Vancouver Health Authority state that Ms Yan "expressly or impliedly" agreed to pay the non-resident rate healthcare services, plus 2% interest per month on overdue bills.
The cost of her services, which included both maternal and neonatal care, totalled C$313,000 when the hospital billed her in October 2012, according to court documents.
The lawsuit is asking for the court to award the health authority the amount owed, plus interest and other costs.
The health authority declined to comment on the story or on the woman's nationality.
An article from 2016 published in the Vancouver Sun said many women from China choose to give birth in Richmond Hospital so that their children might have Canadian citizenship.
Between 2010-16, non-resident births grew from 18 to 339 at Richmond Hospital, according to the article.
A number of "birth houses" have popped up in the Richmond area where expectant mothers can live.
Travel agencies advertise services for parents wanting to give birth in Canada.
"Some of them think it will help them stay here," said Vancouver immigration lawyer Steven Meurrens.
"Most just do it so that their kids have [citizenship]."
In March, a number of Richmond residents signed a petition urging the government to address birth tourism.
According to the Canada Border Service Agency, pregnancy is not a reason for inadmissibility to Canada.
Chinese residents must obtain a visa to visit Canada, but it is largely up to the border service agent what questions they are asked during their visa application.
"Admissibility of all travellers is decided on a case-by-case basis and based on the information made available to the border services officer at the time of entry," Canada Border Services Agency (CBSA) spokesperson Kathleen Marriner told the BBC.
In a guidance document published online, Citizenship and Immigration Canada recommends that CBSA ask pregnant women looking for a temporary visa if they have sufficient funds to cover their expenses and if they plan on leaving the country when their visa expires.
Costs usually range between C$8,000 and $12,000, Mr Meurrens said.
Sources told the Richmond News that Ms Yan experienced serious complications, which is why her fees were so high.