US Air Force deserter found after 35 years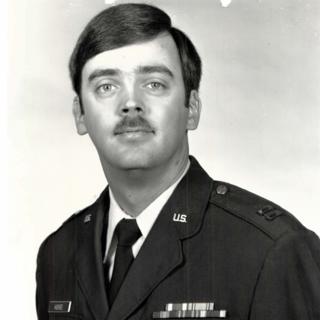 A man who deserted from the US Air Force (USAF) in 1983 has been found in California, the US military says.
Capt William Howard Hughes Jr, who had top-secret clearance, was last seen withdrawing $28,500 (£21,300) from his bank account at 19 different locations in New Mexico.
A man claiming to be Barry O'Beirne was interviewed earlier this month by officials investigating passport fraud.
Pressed on inconsistencies, the man said his real name was William Hughes.
He claimed he had been depressed about being in the air force so left and created a false identity. He had been living in California ever since, he said.
You may also like:
Capt Hughes is currently being held at Travis Air Force Base in California, a statement from the USAF's office of special investigations said.
He faces a maximum sentence of five years confinement, forfeiture of all pay and dishonourable discharge for his desertion.
What do we know about Capt Hughes?
Capt Hughes worked at the Air Force Operational Test and Evaluation Center in Kirtland, New Mexico. He had top secret clearance.
According to the USAF, his duties included "classified planning and analysis of the Nato command, control and communications surveillance systems".
At the time of his disappearance he had just returned from the Netherlands, where he had been working with Nato officers.
Due to his access to classified information he was declared a fugitive and was on a list of the USAF's seven most wanted individuals.
Officials do not know whether his family knew his whereabouts beforehand.
Linda Card, spokeswoman for the Air Force Office of Special Investigations, told the Albuquerque Journal that at this stage, investigators have had "no indication that he had any classified information or that he gave any classified information".
"Until we have the whole story, we don't have the story," Ms Card said.
Ms Card also told the Journal that they have informed Capt Hughes' family of his apprehension.
What were some of theories of why he disappeared?
As Capt Hughes vanished during the Cold War, there was speculation that he had been abducted by the Soviet Union - or defected to them.
In a 1984 article by the Associated Press, Capt Hughes' family said they believed he had been abducted.
"We do not feel he disappeared voluntarily," his sister, Christine Hughes, had said, according to the Albuquerque Journal.
Hughes was unmarried at the time, but had three sisters.
After several rocket ship failures in the US and France, including the Challenger space shuttle disaster in 1986, Los Angeles Times journalist Tad Szulc theorised Capt Hughes may have been to blame.
"Intelligence officers point out that Hughes' knowledge of all the top-secret rocket launch procedures was invaluable to the Soviets," Mr Szulc wrote in July 1986.
Mr Szulc also said an intelligence officer told him Capt Hughes was "worth his weight in gold to the Russians in terms of future 'Star Wars'".