Woman's body found after Florida alligator attack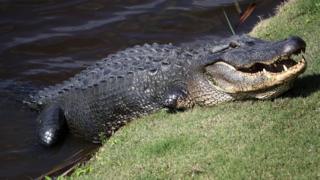 A dog-walker who was attacked by an alligator in the US state of Florida is believed to have been killed by the reptile, state wildlife officials say.
The Florida Fish and Wildlife Conservation Commission (FWC) says Shizuka Matsuki was bitten by a 12.5 ft (3.8m) alligator.
A necropsy was performed on the reptile after it was captured.
It dragged Ms Matsuki, 47, into a lake in the town of Davie, 25 miles (40km) north of Miami, a witness said.
Trappers found the victim's arm inside the alligator after catching it, officials told the Florida Sun-Sentinel.
Authorities confirmed it as Matsuki's arm because of a tattoo, the newspaper reported.
What happened?
The incident occurred at about 09:45 (13:45 GMT) on Friday.
"The FWC believes that the victim is deceased and we will continue recovery efforts on the lake with local authorities," the agency said in a statement.
"This tragedy is heartbreaking for everyone involved," the FWC added.
Local media earlier reported that officers found a dog on a leash but no signs of the woman at Silver Lakes Rotary Nature Park.
"Divers are searching," Davie Police Maj Dale Engle was quoted as saying by the Sun Sentinel newspaper.
"Her dogs won't leave the pond. One of her dogs got bit by the gator."
How great is the danger?
Neighbours told local media they had seen children swimming in the lakes.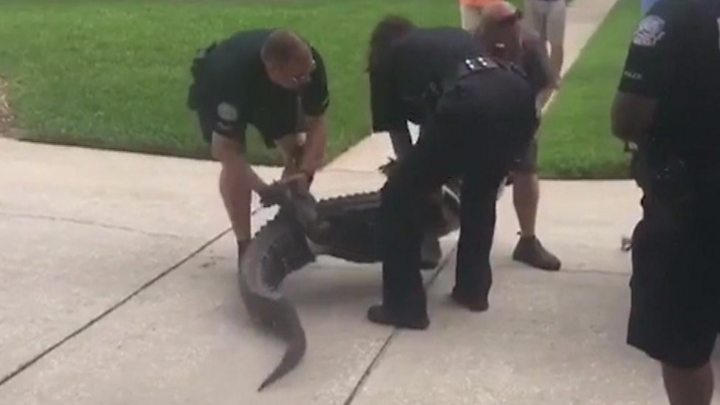 Edwin Gomez, a regular visitor to the the park, told CBS News: "I saw the gator yesterday, it responds in a natural way.
"It's sad to hear someone got hit by the gator."
The reptiles are "opportunistic feeders" that live in all of the state's 67 counties, according to the FWC.
It is not uncommon for alligators to be removed from householders' swimming pools but attacks on people are rare.
Despite the reptiles' widespread presence, only 22 people have died in alligator attacks in Florida since 1948.