Trump v Eagles: NBA athletes rally to defend team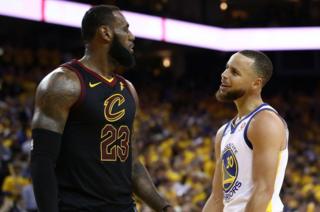 Sports stars are rallying to support the Philadelphia Eagles one day after the US football team was barred from meeting President Donald Trump.
The team - which was issued a customary invitation to the White House after winning the Super Bowl - had the offer rescinded by Mr Trump on Monday.
Rival basketball players - currently competing in the NBA championship - have defended their fellow athletes.
LeBron James said neither team would want the customary invitation anyway.
After uninviting the NFL champions on Monday, Mr Trump hosted a "celebration of the American flag" at the White House on Tuesday instead.
Mr Trump cited ongoing kneeling protests against police brutality as the reason for the cancellation.
However, several Philadelphia players had already said that they would refuse to attend.
According to US media, no Eagles players knelt on the field in protest during the previous season.
Speaking before the third game of the final tournament, Cleveland Cavaliers forward James said: "That's typical of [Mr Trump]. I mean, I know no matter who wins this series, no-one wants the invite anyway."
"Let's not let someone uninviting you from their house take away from their championship.
"Winning a championship is way bigger than getting invited to the White House, especially with him in it."
The customary honour for championship-winning US teams has been carried out by presidents for decades.
Mr Trump's cancellation comes nine months after California's Golden State Warriors basketball team was uninvited from visiting the White House after their NBA victory.
"I agree with Bron," Stephen Curry, the star of the Golden State Warriors said on Tuesday.
"Pretty sure the way we handled things last year, we'd stay consistent with that," he added, in the event that his team wins.
Golden State Warriors head coach Steve Kerr said Mr Trump's cancellation was "not surprising".
"I think the president has made it clear he's going to try to divide us - all of us - in this country for political gain. That's just the way it is.
"I think we all look forward to the day when we can go back to just having a celebration of athletic achievement and celebrate Americans for their achievement, their good deeds."
"So it will be nice when we can just get back to normal in three years," he said in a statement.
Philadelphia Mayor Jim Kenney said Mr Trump's decision "only proves that our president is not a true patriot, but a fragile egomaniac."