Kelly Sadler: Aide who mocked McCain exits White House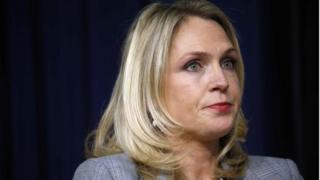 A White House communications aide who was criticised for reportedly joking about Senator John McCain's cancer has left her role, an official says.
It was reported last month that Kelly Sadler had said the Arizona Republican's vote did not matter because he was "dying anyway".
The remark came during a meeting about CIA Director Gina Haspel, whose nomination Mr McCain had opposed.
Mr McCain, 81, has been diagnosed with a rare form of brain cancer.
"Kelly Sadler is no longer employed within the Executive Office of the President," White House spokesman Raj Shah told the BBC in a statement on Tuesday.
After last month's reports over the comment, Ms Sadler called the senator's daughter, Meghan McCain, to apologise, according to the Hill newspaper.
But Ms McCain suggested on the ABC daytime talk show The View that the White House aide should lose her job.
"The thing that surprised me most is, I don't understand what kind of environment you're working in where that would be acceptable, and then you can come to work the next day and still have a job," the co-host said at the time.
The White House has not confirmed or denied whether Ms Sadler made the remark.
"We respect Senator McCain's service to our nation and he and his family are in our prayers during this difficult time," a statement at the time said.
Ms Sadler had recently lost a key ally in the West Wing, according to US media.
In a tense meeting at Mr Trump's desk in the Oval Office shortly after the McCain remark was leaked, she told the president her boss, Mercedes Schlapp, was responsible for disclosures to the press.
The accusation led to an argument in the president's presence, US media report.
During the meeting, Mr Trump reportedly told Ms Sadler she would not be fired for the McCain remark.
Ms Sadler had been a special assistant to the president, tasked with distributing White House talking points to the media.
She last sent an email to reporters on Tuesday morning, touting Mr Trump's first 500 days in office.
It's unclear if she will be leaving the White House altogether, or just the West Wing.
Mr McCain is resting at his family's Sedona, Arizona, retreat and has been notably absent from the Senate.
The Arizona senator - who was tortured during more than five years as a prisoner-of-war in Vietnam - had opposed President Donald Trump's nominee over her waterboarding record.
But the US Senate confirmed Ms Haspel as the CIA's first female director later in May.