Melania Trump attends first public event since kidney operation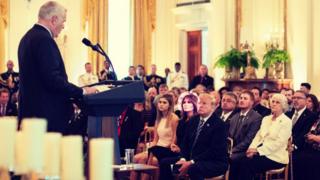 US First Lady Melania Trump, not seen in public since a hospital operation three weeks ago, has quashed rumours about her health by tweeting an image of herself at a White House event.
In the photo she is seen at the event, held for military veterans on Monday, sitting with President Donald Trump.
"Honoured to pay tribute to our fallen heroes," read a tweet posted on her official Twitter account.
She had not been seen in public since undergoing kidney surgery on 10 May.
The operation, for an "embolisation procedure" to treat a benign kidney condition, was described as relatively minor surgery and was said to be "successful" with "no complications".
Mrs Trump, 48, was hospitalised for five days, but her disappearance from the public eye following her surgery led to rumours about her health and marriage.
A reporter for the US website the Daily Caller also tweeted footage of Mrs Trump's arrival at the event for Gold Star families - parents of slain soldiers - hosted by the Trump administration.
Wild theories began to circulate online, including that Mrs Trump had moved back to New York with their son, Barron, or that she was co-operating with special counsel Robert Mueller.
On Sunday, the first lady's spokeswoman, Stephanie Grisham, confirmed that Mrs Trump would not be accompanying her husband to the G7 summit in Canada this week or the scheduled landmark North Korea nuclear summit in Singapore on 12 June.
In the weeks prior to her surgery, she was engaged in several high-profile events.
Last week Mrs Trump tweeted that the media had been "working overtime speculating", adding: "Rest assured, I'm here at the @WhiteHouse [with] my family, feeling great."