Tariffs and Trump: Why the G7 summit in Canada could be awkward
By Jessica Murphy
BBC News, Toronto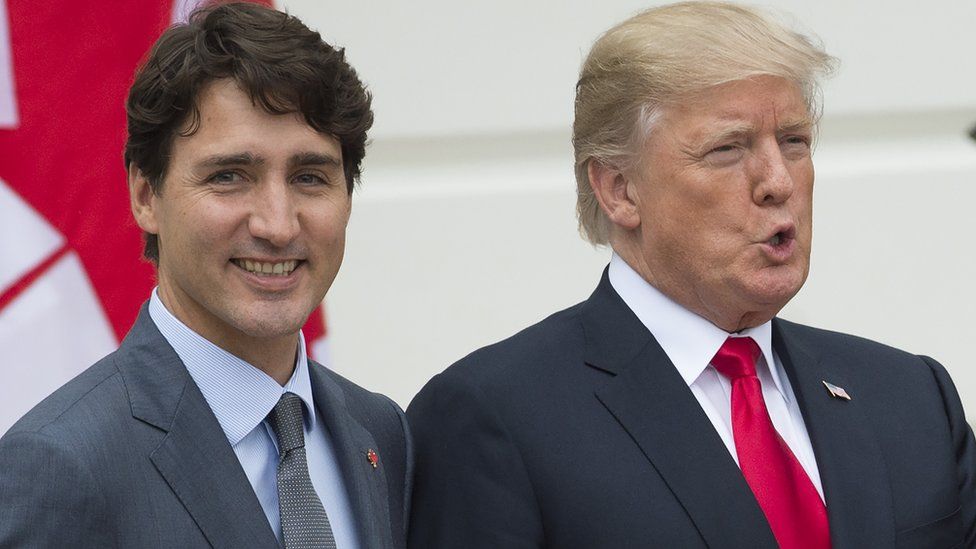 Leaders of the world's wealthiest nations are about to descend on a luxury hotel located in a small Canadian tourist town in Quebec. But it's unclear if there's more to divide or unite them.
Canada, which holds the G7 presidency this year, will host the leaders of the US, Italy, France, Germany, the UK and Japan in the town of La Malbaie.
Here are four things to know before the two-day summit begins on Friday.
1. Canada, meet Donald Trump. Donald Trump, meet Canada
Since Ronald Reagan was elected in 1980, new American presidents have had an unofficial tradition - making Canada the destination for their first foreign trip.
George W Bush broke with tradition when he took a day trip to Mexico, but it wasn't long before he travelled north for the 2001 Summit of the Americas in Quebec City.
Donald Trump waited longer - some 500 days into his presidency.
This Charlevoix Summit will be the first time he pays a visit to his northern neighbour as American leader.
The US president is unlikely to get the rock star welcome received by his predecessor, Barack Obama, who was greeted in 2009 by people gathered on Parliament Hill in Ottawa to catch a glimpse of the politician.
2. Expect awkward conversations
On Saturday, G7 finance officials issued a rebuke over the "negative impact" of the US metals tariffs and urged "decisive action" on the matter when world leaders meet in La Malbaie.
It won't be the first time Mr Trump's stances on trade and other policy matters have caused friction among his world leader colleagues.
In fact, it could be more G6 + 1 than G7.
During the Italy summit in 2017, the US leader was left isolated over Paris climate change deal.
He was the lone man out when the other leaders reaffirmed their commitment to the Paris accord, the world's first comprehensive deal aimed at reducing greenhouse emissions.
"We have a situation of six against one," German Chancellor Angela Merkel said at the time.
Mr Trump later announced his intention to withdraw the US from the Paris deal.
This time around, Mr Trump will undoubtedly be held to task over the recent metals tariffs slapped on Canada, Mexico and the European Union (EU).
European Commission President Jean-Claude Juncker and European Council President Donald Tusk will also both be attending the summit.
Canada is also in the midst of intense North American Free Trade Agreement negotiations with the US and Mexico.
A Canadian official who briefed journalists prior to the summit said it's fair to say that any economic talks "will quickly go to a discussion on trade".
"There will be a discussion and the president will be participating," he said.
3. The 'lonely hearts club'
John Kirton, director of G7 Research Group, says that inevitably, the leaders will find more that unites them than divide them.
He says the gathering is a uniquely intimate summit where some of the world's most powerful political leaders can gather "face-to-face around a fireside, a dining room table".
"The summit is the perfect place for leaders to freewheel, to say what they want, to be politically incorrect, to complain about their own domestic media.
"It's a lonely hearts club, a kind of group therapy."
He adds it won't be the first time the consensus-based group finds itself divided since it came into being following the OPEC oil crisis in 1973.
The Canadian official said the meeting's format allows for world leaders to have "a frank and full exchange".
But as host, Canada is "working to bridge the differences that exists".
Inclusive economic growth
Gender equality and women's empowerment
World peace and security
Jobs of the future
Climate change and oceans
Foreign policy issues expected to be discussed include the planned meeting between President Trump and North Korean leader Kim Jong-un, tensions with Russia, China's global influence, and the crisis in Venezuela.
Mr Kirton says he expects three main "deliverables" to come out of the Charlevoix Summit.
They include taking action to prevent foreign interference in democratic elections, an issue that falls directly into the central responsibility of the G7 for defending and spreading democratic governance.
"Summits are often a great global fundraiser," says Mr Kirton.
The view from the UK from BBC Westminster
The British prime minister will raise the US decision to apply tariffs to EU steel and aluminium imports with President Trump at the G7 later this week. Theresa May has already told the President she believes the tariffs are "unjustified and deeply disappointing". There will also be a discussion on North Korea and the president's planned summit with Kim Jong-un. But Brexit may also be on any unofficial agenda. While no formal post-Brexit trade negotiations can begin until 2019, some will look for signs from the US, Canada and Japan about what any future trade deals may look like.
The fact that the Manoir Richelieu, the venue where the leaders will meet, is well over an hour's drive away from Quebec City offers a limited opportunity for mass protests.
Canada is spending some C$600m ($462m; £345m) on the summit and related events, a large chunk of which is going towards security.
When Canada hosted the Summit of the Americas in Quebec City in 2001, the meeting was the focus of two days of violent clashes between riot police and thousands of anti-globalisation demonstrators.
Three days of protests are planned this week in Quebec City, where demonstrators will voice their opposition to the G7 agenda.
But the town's chief of police told media in May that the security threat for the summit is considered "moderate" and that he doesn't expect a repeat of the 2001 showdown.
About 8,000 soldiers and police officers are expected to be on hand during the event.
In La Malbaie, opinions on having their picturesque town overrun by world leaders, law enforcement and security fences elicit everything from a shrug to some concern.
"Honestly, I don't pay it any attention at all," Marjolaine Morin told the BBC. "I'm only asking that everything stays calm and in order."
Meanwhile, other Charlevoix residents are capitalising on the global attention.
Microbrasserie Charlevoix, a popular microbrewery in the region, has concocted a special G7 beer with ingredients from the seven member nations and with 7% alcohol.
Microbrewery co-founder Frederick Tremblay says the idea came about when brewer Nicolas Marrant pointed out it will likely be the one-and-only time the region hosts such an event.
The brewery made limited run - which sold out - and some crates were sent to the hotel where world leaders will gather.
Mr Tremblay says he hopes their beer starts a trend.
"If we had more time, we would have invited a brewer per country to come and brew it all together here, that would have been a lot of fun," he said.
"It's a worldwide fraternity, the brewing industry. So let's hope that some other brewer takes up (the idea)."