Trump-Kim talks: North Korea's Kim Yong-chol arrives at White House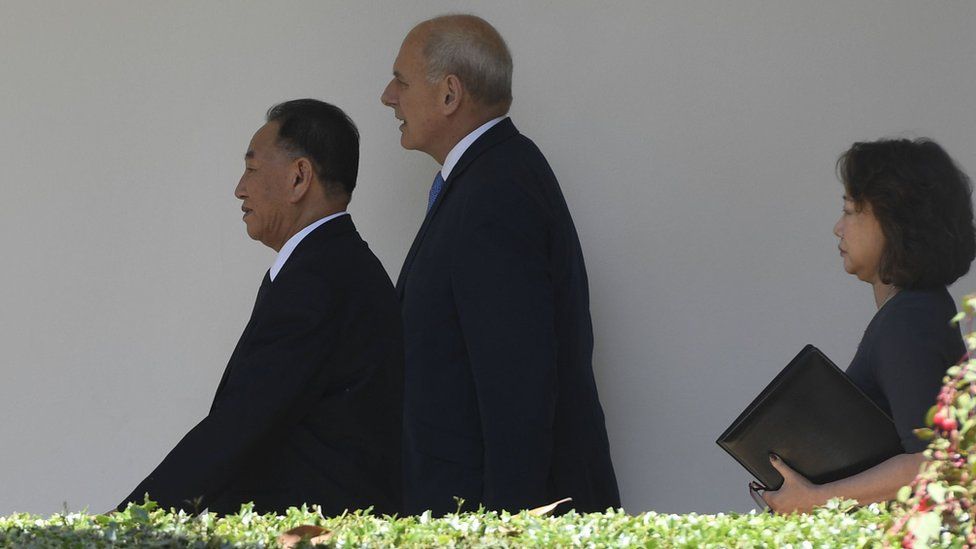 The highest-ranking North Korean official to visit the US in nearly 20 years has arrived at the White House to meet US President Donald Trump.
Gen Kim Yong-chol is expected to deliver a letter from North Korean leader Kim Jong-un to Mr Trump.
His visit comes a day after he met the US secretary of state in New York to discuss a historic summit between the two nations' leaders.
Mr Trump cancelled the 12 June summit, but both sides agreed to move forward.
Scheduled to happen in Singapore, the historic meeting between Mr Trump and Kim Jong-un would be the first between sitting US and North Korean leaders.
Secretary of State Mike Pompeo on Thursday called his meeting about denuclearisation with Gen Kim "substantive".
"President Trump and I believe Chairman Kim is the kind of leader who can make those kinds of decisions. And that in the coming weeks and months, we will have the opportunity to test whether or not this is the case," he said.
Mr Kim's letter reportedly expresses his interest in meeting without making any significant concessions or threats in regards to denuclearisation, the Wall Street Journal reports, citing a foreign government official who was briefed on the contents.
Gen Kim, often described as Mr Kim's right-hand man, is the most senior North Korean figure to hold talks at the White House since a senior envoy met President Bill Clinton in 2000.
He was greeted at the White House by chief of staff John Kelly before he was escorted to the Oval Office.
Tara McKelvey, BBC News White House reporter
The opening of a letter from North Korea's leader, Kim Jong-un, which is being hand-delivered by his top aide, Kim Yong-chol, to the president, is vintage Trump.
The letter itself is an old-fashioned gesture. But it captures the drama of a reality TV show and, in this case, reflects a high-stakes diplomatic one.
President Trump has spoken of the possibility of winning a Nobel Peace Prize for his negotiations with the North Koreans, and the delivery of the letter moves him closer to the summit and the talks.
Regardless of what happens with the letter or the summit, though, he's captured the world's attention again today - not to mention high ratings.
How are the talks proceeding?
Thursday's talks in New York concluded early due to progress being made, a US state department official said.
On Wednesday evening, Mr Pompeo and Gen Kim arrived separately at a building close to the UN headquarters.
Emerging later, Mr Pompeo tweeted: "Good working dinner with Kim Yong Chol in New York tonight. Steak, corn, and cheese on the menu."
Ahead of the meeting, Mr Pompeo had set out the US position.
Looking forward to meeting with Kim Yong Chol in New York to discuss @Potus potential summit with Chairman Kim. We are committed to the complete, verifiable, and irreversible denuclearization of the Korean Peninsula @StateDept

— Secretary Pompeo (@SecPompeo) May 30, 2018
North Korea has strongly objected to statements by Trump administration members comparing North Korean denuclearisation to Libya's.
Former Libyan leader Colonel Gaddafi gave up his nuclear programme only for him to be killed by Western-backed rebels a few years later.
Who is Gen Kim Yong-chol?
Gen Kim has previously served as chief of Pyongyang's top military intelligence agency, and was sanctioned twice by US and South Korea for his role in supporting North Korea's nuclear and missile programme in 2010 and 2016.
His travel restrictions were lifted this week so he could fly to New York and Washington, DC to meet US officials, the Department of State said.
Gen Kim was accused of masterminding attacks on the South Korean warship Cheonan and Yeonpyeong Island in 2010.
He is also linked to the cyber-attack on Sony Pictures in 2014 and led the country's delegation to the 2018 Winter Olympics closing ceremony in South Korea's Pyeongchang earlier this year.
Pyongyang have denied any involvement in both incidents.
The former spy chief's current official position is vice-chairman of the Central Committee of the Worker's Party of Korea, but he rose to prominence as Pyongyang's chief military negotiator during inter-Korean talks between 2006-08.
He later served as director of the General Reconnaissance Bureau, tasked with cyber-warfare and gathering foreign intelligence, from 2009-16.
In 2016, he took charge of the United Front Department, the civilian intelligence agency which supposedly operates pro-North Korean groups in South Korea and handles inter-Korean affairs.