US school official convicted for shooting teen over drugs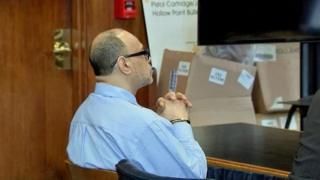 A former Boston Public School official and anti-violence advocate has been convicted of shooting a student who he enlisted to work as a drug dealer.
Shaun Harrison, 58, worked at Boston English High School for five years when he recruited Luis Rodriguez, then 17 years old, to sell cannabis for him.
Harrison shot the student in the back of the head over declining drug sales.
He was sentenced up to 26 years in prison on Friday on gun, drug offence and armed assault charges.
Students nicknamed Harrison "Rev" - short for "reverend" - referring to his pastor-like character.
"Not only was he not a man of God or a role model for young people, he manipulated them in a way that was terribly offensive," said District Attorney Dan Conley.
Mr Rodriguez, now 20, testified during the two-week trial that he was shot at a petrol station on 3 March 2015 by the former school dean.
The teenager was shot in the back of the head in Boston's Roxbury neighbourhood, but survived when the bullet missed an artery, broke his jawbone, and caused nerve damage and hearing loss.
He told jurors that he first met Harrison when he was in his second year in high school, and Harrison was working there as the dean of academies.
"He was my counsellor. I went to him for everything," he said.
Prosecutors say that Harrison shot Mr Rodriguez for withholding money, and fear that officials would learn that the student was selling drugs.
Harrison was tasked with keeping order in school hallways and in the cafeteria, and mentoring troubled students, according to court records.
The role required him to help students with behavioural problems, and brought him into frequent contact with police.
"This guy is probably the last person we would expect," Police Commissioner William Evans said after the shooting in 2015.
"He was an advocate for anti-violence. Why would he be on our radar screen?"
During the trial, Harrison's lawyers asked Mr Rodriguez why he did not immediately identify Harrison as his attacker in the moments after he was shot.
According to local media, Mr Rodriguez told hospital workers and police that he had been shot by someone who was buying drugs from him.
"It took me a while to get all my thoughts back together after being shot in the head, sir," Mr Rodriguez testified during the cross-examination.
"I was in such denial. I knew who did it.
"Of course I knew who did it."