Remains of lost World War Two pilot identified in Hawaii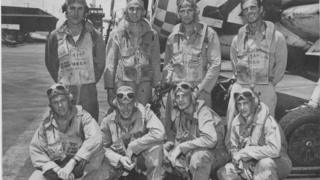 US military officials have identified the remains recovered from a crash site on the Hawaiian island of Oahu as a long lost World War Two aviator.
Navy Reserve Ensign Harold P DeMoss crashed in 1945 during a training exercise near Kahuku Point.
Due to the remoteness of the site, his remains were only found in 2016 after petitioning from Mr DeMoss' family.
Mr DeMoss' remains will return to his family in Tennessee after more than 70 years.
Judy Ivey, Mr DeMoss' niece, told the Honolulu Star Advertiser that officials confirmed the identity of the remains earlier this month.
While conducting an F6F-3 Hellcat training flight on 23 June, 1945, Mr DeMoss became separated from the rest of the planes in cloud cover over mountainous terrain.
The military located the crashed and burning plane the next day, but a search party at the time buried unidentified remains and did not recover Mr DeMoss, according to the Star Advertiser newspaper.
You may also be interested in:
Ms Ivey told the newspaper that her grandparents had started the search for their son's remains.
"They continued it from the day he crashed - trying to get him brought home," she said. "[It] was important for my grandparents."
In 1948, the Navy told the family that recovering the remains was "impracticable" because the site was far from roads and could only be reached on foot over "extremely rugged and dangerous ground".
Decades later, Ms Ivey was able to locate the site with the help of the Hawaii Aviation Preservation Society.
A military team went to the site to recover Mr DeMoss' remains, using Black Hawk helicopters provided by the army to access the wreckage.
Now that the military has confirmed the remains are of Mr DeMoss, the process of transporting them back to Nashville, Tennessee is under way.
Ms Ivey told the newspaper that her 85-year-old father, Mr DeMoss' only sibling, will be happy to know his brother's remains are finally going home.
"He just said he'd like to have [Mr DeMoss] there and know he's next to his parents. And (someday) my dad's going to be buried next to him."
Mr DeMoss' wedding ring and pilot wings were also recovered for the family.