#IfIDieInASchoolShooting trends amid school tragedies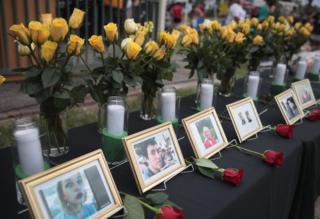 "#IfIDieInASchoolShooting is trending and that is the sad reality of America."
Lane Murdock tweeted this response to the tens of thousands of people - many of which children - using the hashtag on Twitter.
Some of them want their families to know what to do with their bodies after their deaths. Others would like their deaths to be used to encourage gun reform.
The hashtag has been used more than 45,000 on Twitter in the past 24 hours.
'I'll never be able to see my sister again'
Andrew Schneidawind was the first to tweet #IfIDieInASchoolShooting after the recent shooting at a school in Santa Fe, Texas, that left at least 10 dead.
A week earlier he had visited Marjory Stoneman Douglas High School - the site of the shooting that left 17 dead in February 2018.
While he said he was happy that the hashtag resonated with other students in the US, he said it "really shouldn't have had to".
"Us kids should not have to write what we will lose and miss because of our leaders' inaction," he wrote on Twitter. "Hopefully this shames them".
For Emma Gonzalez, who became a prominent activist after February's Parkland, Florida, high school shooting, the hashtag was an opportunity to remember her friend Carmen Schentrup who was killed.
'I will only become a statistic'
Thousands of young people shared the things that they would miss out on if a shooting happened at their school.
Others reflected on the loved ones they would leave behind.
@jaxonomara wrote that she would "never get to create change".
'Politicise me'
Many thousands of young people used the hashtag to call for the reform of gun control legislation.
Twitter user @kaleidoscopeken wrote: "#IfIDieInASchoolShooting POLITICIZE ME. FIGHT FOR ME. Ensure that it never happens again".
While the conversation played out among young people, some urged "grown-ups" to pay attention to the fears of "children in America".