Police shoot gunman at Trump-owned resort in Florida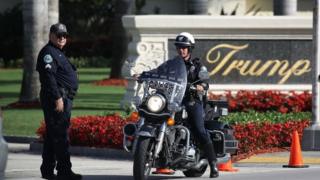 Florida police have shot and injured a gunman who was found rambling about Donald Trump in the lobby of the president's golf resort near Miami.
The man, identified as 42-year-old Jonathan Oddi, was taken to hospital after exchanging fire with police at the Trump National Doral Golf Club.
Police said they arrived at the club at 01:30 (05:30 GMT) after receiving calls about a man firing shots.
"Thankfully, there were no shooting victims," Miami-Dade police tweeted.
Mr Oddi was shot in the legs by officers. Police said that one officer "suffered a broken wrist".
Mr Oddi's motive was not immediately clear.
Miami-Dade Police Director Juan Perez told reporters Mr Oddi was "trying to lure our officers... into this gunfight. He did succeed, and he did lose. That's the bottom line."
Mr Oddi was not a guest at the resort, but lived in a nearby apartment complex, according to the Miami Herald newspaper.
On social media, Mr Oddi called himself a fitness instructor, real-estate investor and manager of a gemstone business. He appeared to be from South Africa, the Miami Herald reported.
Eric Trump, the president's son and a top official at the Trump Organization that runs the resort, praised police actions in a tweet.
Mr Trump has so far made no public comments on the issue.