Wife 'warned of unstable ex-husband' before Texas murders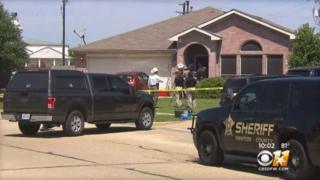 The sole survivor of a shooting that left four dead has said she is angry her divorce judge did not take action against the suspect, her ex-husband.
Authorities say the man attacked Amanda Simpson in her rural north Texas home on Wednesday morning, killing their three children and her boyfriend.
The suspect, who also shot Ms Simpson, turned the gun on himself, police say.
Ms Simpson, with a bullet still lodged in her shoulder, expressed her anger in a Facebook video from her hospital bed.
"I just want to say I'm extremely mad at the judge," she said in a Facebook video post on Wednesday.
"I made it very clear to the judge that he was mentally unstable. And they didn't listen," she said, claiming that her ex-husband had tried to kill himself last year.
"So now, I don't have my babies," Ms Simpson tearfully said in the video.
The attack happened in Ponder - a small town of around 2,000 residents - 40 miles (64km) northwest of Dallas.
Her ex-husband was identified as Justin Painter, 39, according to the Denton County Sheriff's Department.
The two were married in 2012 in Tarrant County, and filed for divorce in 2017, according to CBS.
The children were identified as Odin Painter, 8, Caydence Painter, 6, and Drake Painter, 4, the sheriff's department said. Ms Simpson's boyfriend was named as 29-year-old Seth Richardson.
In her video, Ms Simpson says her ex-husband became angry on Tuesday after she dismissed his plea to reconcile their marriage.
"I've relived it over and over and every time I close my eyes, I see my babies… I see them dead. Every time I close my eyes, you don't want to know what I see," Ms Simpson said in her Facebook video.
"You never think you'll lose a child, and I always watch the news," she said. "And I just stopped watching it because too many children get killed."
Neighbours expressed shock that such a violent attack could happen in the quiet community.
"We've lived in Ponder now 38 years, been [in this house] for 16 years, and we've never had anything like this," resident Bruce Dotterer told the Denton Record-Chronicle.
Neighbour Mary Jean Dennis said she saw a man with three children near the house earlier on Wednesday morning.
"I walked past all three of the kids, and they said, 'Good morning,' and just looked at me," Ms Dennis told the newspaper.
"Had I known the man was going to go in there and do that, I would have stopped. And I'm thinking, 'Why did I not know? Why didn't I sense that something was going to happen?'"