California blast victim's ex-boyfriend charged over explosives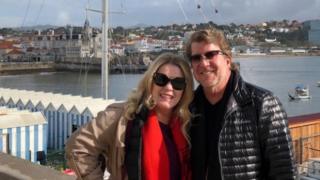 Authorities have arrested Stephen Beal, 59, a business associate and ex-boyfriend of the woman who was killed in an explosion at a spa in California.
He was taken into custody on suspicion of possessing two "complete" improvised explosive devices and not in connection with Tuesday's explosion, the FBI said.
The FBI said agents found the devices while searching Mr Beal's Long Beach residence on Thursday.
Officials say they believe the blast "was not an accident".
FBI investigators say they also found batteries, over 100 pounds of explosives, two handguns and a shotgun in Mr Beal's home.
Mr Beal told the FBI he was a model rocket hobbyist. Neighbours have also told local media that they witnessed Mr Beal working on rockets in his garage.
The FBI affidavit by Special Agent Evan Jesch noted that Mr Beal "initially said he did not recognise" one of the devices. Then, he said the device was a smoke detonator that would release smoke to ensure the rocket stayed visible in flight.
Mr Beal has been charged with one count of possession of an unregistered destructive device.
According to the affidavit, Mr Beal said his relationship with the victim, 48-year-old Ildiko Krajnyak, "began to cool due to disputes over the exclusivity of the relationship and financial issues".
He appeared briefly in court on Thursday but did not enter a plea. His detention hearing is scheduled for Monday.
FBI spokeswoman Laura Eimiller said that no further details would be available until a federal criminal complaint was issued.
Ms Krajnyak was the owner of the day spa in Aliso Viejo, where the blast occurred.
State documents show Mr Beal had listed Ms Krajnyak as the chief executive officer of a skin care company that he started last year called I&S Enterprises.
Mr Beal was the chief financial officer of the company, which was based in the building hit by the explosion.
His Facebook page contains several photos that appeared to show him travelling with Ms Krajnyak in the last year.
Mr Beal told FBI investigators that he and Ms Krajnyak dated for approximately a year and a half.
"We do not believe this was an accident," FBI officer Paul Delacourt said on Wednesday.
"Although the damage was extensive, there are some components that we have located at the scene of the explosion that are inconsistent with what one might expect to find at this business."
Mr Beal is expected to appear at the US District Court in Santa Ana on Thursday.
Tuesday's blast, which witnesses said felt like "an earthquake", also left two people injured.
The explosion destroyed the first floor of the medical building where the spa was located and also damaged nearby buildings.