Pennsylvania man sentenced to life over four murders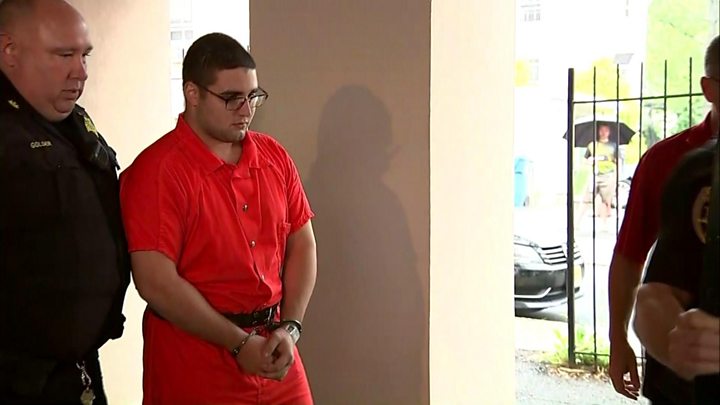 A 21-year-old man has been sentenced to life in prison over the murders of four men who went missing last year in the US state of Pennsylvania.
Cosmo DiNardo was sentenced to four life terms on Wednesday, but his cousin and alleged co-conspirator Sean Kratz unexpectedly rejected his plea deal.
Prosecutors will now seek the death penalty for Mr Kratz, 21, who is charged in three of the murders.
DiNardo said he killed the men and burned their bodies in a pig roaster.
Days after he was caught trying to sell one of the victim's cars last July, DiNardo confessed to the murders of Jimi Patrick, Tom Meo, Mark Sturgis and Dean Finocchiaro.
The victim's bodies were later found in a "common grave" on a 90-acre farm owned by DiNardo's parents in suburban Philadelphia.
On Wednesday, he was sentenced as part of a plea deal. In exchange for his confession and telling investigators where to find Patrick's body, he avoided the death sentence and instead received life in prison.
DiNardo, described by the Bucks County District Attorney's Office as "a turbulent son of privilege", lured the victims to his family's property under the pretence of selling marijuana.
After he killed them, he dumped their bodies in a 12ft (4m)-deep hole - used for roasting pigs - and burned them, he said.
Police released the confession tapes to NBC News, but the motive behind the gruesome murders remains unclear.
---
More on this story:
---
DiNardo's cousin, Mr Kratz, had confessed to shooting Finocchiaro, but surprisingly rejected his plea deal at the last minute.
Mr Kratz gave prosecutors video-recorded statements about the killings last month, agreeing to plead guilty in three of the murders in exchange for a 59 to 118 years in prison, the Philadelphia Inquirer reported.
Mr Kratz told police he only shot Finocchiaro because he was afraid of DiNardo, according to the newspaper.
The district attorney has said that DiNardo could now be a key witness at Mr Kratz's death penalty trial.
After his sentencing, DiNardo apologised again to the families of the victims, saying he hopes "that they find some peace", the attorney's office said.
"I have no doubt in my mind that should the day ever come that you should find yourself released into the community and had an opportunity to kill again, you would do it," Judge Jeffrey Finley said at the sentencing, according to the Inquirer.
"To you, human lives are disposable. They have no value."
The Inquirer also reported that DiNardo had been committed to a mental health facility in 2016 for schizophrenia, and had been banned from his high school and college for aggressive behaviour.
DiNardo has been sent immediately to Pennsylvania state prison. His parents now also face wrongful death lawsuits, filed by the families of the victims.
A date for Mr Kratz's trial has not been set, and his lawyers have offered no comment.