Trudeau 'appalled' Canadian doctor was wounded in Gaza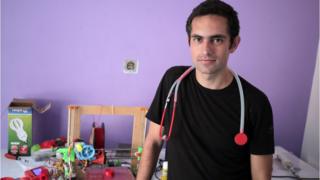 Canadian Prime Minister Justin Trudeau has called for an investigation into the reported shooting of a Canadian doctor in Gaza.
Tarek Loubani says he was shot in the leg while providing medical services to protesters along the border between the Gaza Strip and Israel.
Dr Loubani said paramedics had worn fluorescent high visibility jackets to identify themselves as medics.
Mr Trudeau said Canada "deplores" the recent violence.
In a statement on Wednesday, the prime minister said his country is "gravely concerned by the violence in the Gaza Strip that has led to a tragic loss of life and injured countless people".
"We are appalled that Dr Tarek Loubani, a Canadian citizen, is among the wounded - along with so many unarmed people, including civilians, members of the media, first responders, and children".
He called for an "immediate independent investigation to thoroughly examine the facts on the ground - including any incitement, violence, and the excessive use of force".
Canada is one of several nations including the UK, Germany, Ireland and Belgium that have expressed concern at the violence and who have called for an inquiry into deadly violence in Gaza.
But the US has said Israel acted with "restraint".
The Israeli government has said terrorists wanted to use the protests as cover to cross into its territory and carry out attacks.
Dr Loubani, an emergency physician who practises in London, Ontario, and at the Shifa Hospital in Gaza, said in a blog post that one paramedic was killed and several others were wounded on Monday as Israeli troops opened fire during the protests.
Some 60 people died on Monday when 40,000 took part in demonstrations that coincided with the controversial relocation to Jerusalem of the US embassy.
Monday was also the 70th anniversary of the founding of the state of Israel.
Dr Loubani said he was shot late in the morning and received a "moderate" wound to his left calf and minor injuries to his right knee.
He said he and was standing outside the protest area when he was wounded.
Dr Loubani wrote: "I was facing in a southerly direction talking to a colleague. The snipers were situated east of us.
"I was wearing visible full hospital greens. There was no active shooting from the Israelis immediately before or after. There were no protesters in our immediate vicinity."
The physician made headlines in Canada in 2013 when he and a filmmaker were arrested and held by Egyptian police in Cairo during protests in the country while the pair were on their way to Gaza.