Canada promises 'indemnity' for Kinder Morgan pipeline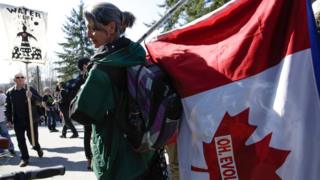 Canada has promised to cover energy infrastructure giant Kinder Morgan for financial losses caused by political delays to its pipeline project.
The federal government is in talks with the company over the future of its controversial Trans Mountain expansion.
The proposed project would carry oil from the province of Alberta to British Columbia (BC) on Canada's Pacific coast.
It is facing possible delays due to court action launched by BC.
BC is supported in its opposition to the project by environmental groups and some First Nations.
Opponents of the Kinder Morgan project are concerned over the environmental impact of extracting more fossil fuels from Alberta's oil sands and the possibility of an oil tanker spill in Canada's Pacific waters.
Last month, Texas-based Kinder Morgan suspended non-essential spending on the Trans Mountain expansion, citing political uncertainty surrounding the project.
It will decide on the pipeline's fate by 31 May.
The Trudeau government says Kinder Morgan's Trans Mountain pipeline expansion is in the national economic interest. The expansion project received federal approval in 2016.
On Wednesday, federal Finance Minister Bill Morneau said Ottawa was open to other investors in case Kinder Morgan decided to walk away from the proposed project despite promises from Ottawa to "indemnify" Kinder Morgan for the pipeline.
Canadian oil producers sell their crude at a discount compared to producers on the rest of the continent because they lack capacity to get their product to tidewater, which would allow it to diversify its energy market.
The Trans Mountain Alberta-to-British Columbia project would twin an existing pipeline and increase its capacity from 300,000 barrels a day to 890,000 barrels a day.
The Alberta government says it is working closely with its federal counterparts to ensure the pipeline construction starts on schedule as planned later this year.
Last month, about 200 protesters opposing the expansion were arrested for breaking a court injunction barring them from entering within five metres (16ft) of two Kinder Morgan terminals in Burnaby, BC.