Keeven Robinson: Death of man during arrest ruled homicide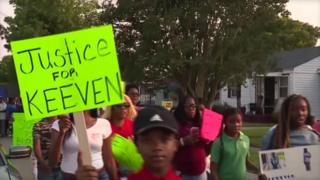 A Louisiana coroner has ruled the death of an unarmed black man during his arrest was likely a "homicide" and he had suffered "compressional asphyxia".
Preliminary post-mortem examination results found that Keeven Robinson, 22, "sustained significant traumatic injuries" to his neck.
Jefferson Parish Sheriff's officials had initially said he died due to his chronic asthma after a police chase.
More than 250 people marched on Monday night in Robinson's New Orleans suburb.
Protesters in Shrewsbury held signs saying "Justice 4 Keeven", "Enuf is Enough", " and "Stop Police Brutality" while singing the gospel hymn Amazing Grace.
"For me it means unity, coming together and pretty much just supporting the family," protester Regina Hollins told WWL-News.
The march came only hours after the autopsy results were released by Jefferson Parish Coroner Gerry Cvitanovich.
Mr Cvitanovich said the injuries were "consistent with compressional asphyxia", but complete results, which includes toxicology reports and examining microscopic evidence of Robin's lungs, would take weeks.
Jefferson Parish Sheriff Joe Lopinto said at Monday's news conference that the four undercover narcotics sheriff's deputies who were involved in the incident have now been placed on desk duty.
The deputies, who were all white, have been read their rights and are co-operating with local, state and FBI investigators.
The fatal encounter took place on Thursday after the police tried to stop Robinson's car at a petrol station, suspecting that he was selling drugs.
Robinson fled in his car, and later on foot, before he was chased down by deputies.
After he was handcuffed, police said they realised that he was not breathing and began performing life-saving procedures, officials say.
He was taken to hospital where he later died.
"The reality of it is they were in a fight with this gentleman," Sheriff Lopinto told reporters, adding that an investigation will determine if excessive force was used.
He said that it is unclear if police used a chokehold, but added that officers are "not forbidden from doing that, but they're not trained… to do that on a normal basis".
"From a policy standpoint, we don't train somebody to hit someone with a brick," Sheriff Lopinto said. "But if you're fighting for your life and a brick's there, you hit someone with a brick."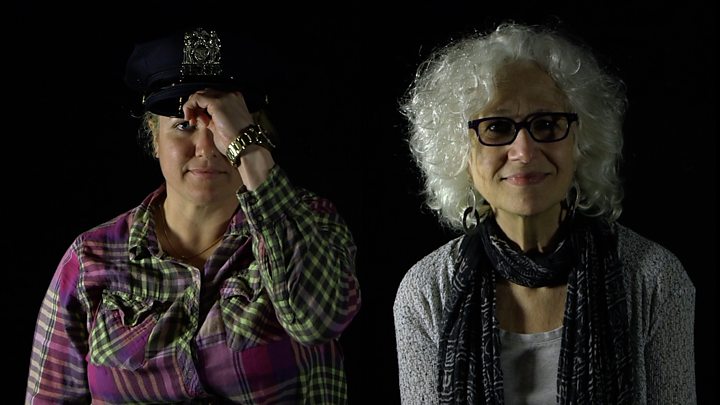 Mr Lopinto added that heroin was found on Robinson and a handgun was later found in his car.
No footage has emerged of the encounter. The Jefferson Parish Sheriff's Office does not use body cameras and the officers involved were undercover detectives.
At the protest, Robinson's father Steve Jackson told The Times-Picayune: "It's time for it to stop man"
"You got somebody in 'cuffs, take them to jail," Mr Jackson said. "Why do you think they're running? They're scared."
Robinson's grandmother, Sheryl Robinson, said that she wants "the young black men to be able to walk the streets".
"And when the police do press them, we want them to be able to stand and let the police do their job," Mrs Robinson said.
"But they're afraid of the police, they are killing our children."