Bouncy castle blown onto California motorway with boy inside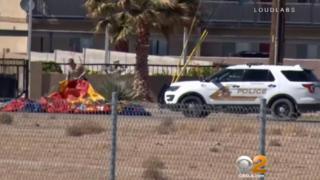 A nine-year-old boy in California suffered minor injuries after a bouncy castle he was playing in was lifted by strong winds and thrown onto a highway.
The inflatable structure "rolled" onto a road and was struck by a car, causing the boy to fall out, according to the Victor Valley Sheriff's Department.
The incident began in the boy's front yard on Saturday after his family rented the castle for a party.
The boy suffered "minor injuries" and was taken to hospital by an ambulance.
The driver of the car, which hit the bouncy castle on Highway 395 in San Bernardino County, "had no injuries and was shook up from the ordeal", a police statement said.
"The kid got lucky," Sgt Marc Bracco of the San Bernardino County Sheriff's Department told the Los Angeles Times.
"The winds have been strong in the high desert all weekend - but that area, the winds were going probably a little faster up there," he said, describing it as a "freak accident".
Sgt Bracco said the bouncy castle had been tethered but he was unsure how.
He warned that bouncy castles - also known as bounce houses in the US - should always be firmly tethered to the ground, and should never be used in on very windy days.
Sgt Bracco suggested using heavy weights, such as buckets filled with water, because even stakes that are properly hammered into the ground at a 45 degree angle could still fail.
"Once those stakes rip out of the ground, that stuff starts moving," he said.
Witnesses in Adelanto, California - where the weekend's incident occurred - said that strong gusts of wind appeared to form a tornado, CBS Los Angeles reports.
A number of children around the world have been hurt or killed in bouncy castles that have drifted after becoming detached from their anchors.
Last week, two fairground workers in the UK were convicted of manslaughter by gross negligence after a seven-year-old girl died in a bouncy castle they had been operating in 2016.
Summer Grant, of Harlow, Essex, died because the operators had failed to monitor weather conditions, the court ruled.
One detective told the court that the married couple, William and Shelby Thurston, had acted "disgracefully" by putting up a bouncy castle in 36mph (58kp/h) winds.