Pompeo on N Korea: US may allow private firms to invest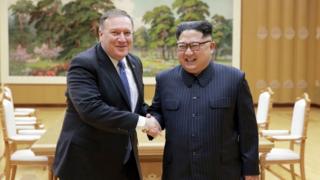 The US may allow private companies to invest in North Korea, Secretary of State Mike Pompeo said on Sunday.
In an interview on Fox News Sunday, he clarified that this would be conditional on the country's full denuclearisation.
He said US investors could help build its energy grid.
This comes after his trip to Pyongyang last week and ahead of President Donald Trump's meeting with North Korean leader Kim Jong-un in Singapore.
The US announced its offer to help rebuild the North Korean economy on Friday, but Mr Pompeo has now given more details on the proposal.
"This will be Americans coming in - private sector Americans, not the US taxpayer - private sector Americans coming in to help build out the energy grid. They need enormous amounts of electricity in North Korea," he said.
He also suggested agricultural investment, so North Koreans "can eat meat and have healthy lives".
Mr Pompeo also told host Chris Wallace that Mr Kim pays attention to Western media.
During Mr Pompeo's surprise visit to North Korea, Pyongyang made headlines around the world by releasing three US detainees.
Trump greets men freed by North Korea
Former CIA chief Mike Pompeo stepped into the role of the US top diplomat after Rex Tillerson was sacked in March.
Mr Trump and Mr Kim are set to come face to face for the first time on 12 June.