Canadian MPs call on Pope for residential school apology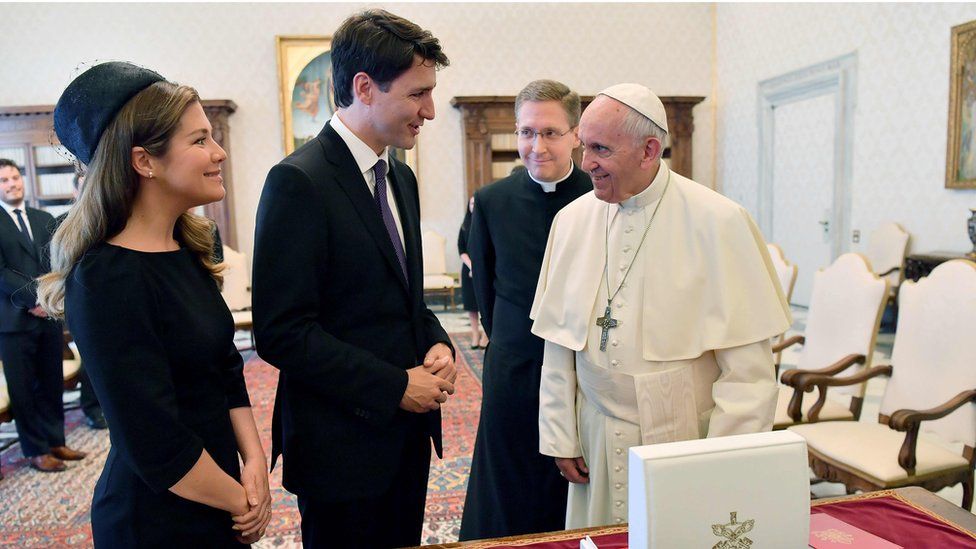 Canadian members of Parliament have voted to ask the Catholic Church to apologise for its involvement in the abuse of indigenous students at school.
The residential schools took children from their families to assimilate them into mainstream Canadian society.
Apologies have been issued by Anglican, Presbyterian and United Churches, as well as by the Canadian government.
In March, the Canadian Conference of Catholic Bishops said Pope Francis would not issue an apology.
On Tuesday, members of Canada's Parliament voted 269-10 in favour of asking the pope again for an apology for the Church's role in running the government-sponsored schools.
The pope was first called on to apologise in 2015, when the Truth and Reconciliation Commission published 94 "calls to action" to help survivors heal.
Prime Minister Justin Trudeau brought the issue up with the pope personally last May, during his visit to Italy and the Vatican.
"I told him how important it is for Canadians to move forward on real reconciliation with the indigenous peoples and I highlighted how he could help by issuing an apology," Mr Trudeau told reporters after meeting the pope.
But in March, Bishop Lionel Gendron, president of the Canadian Conference of Catholic Bishops, said no apology would be forthcoming.
"The Holy Father is aware of the findings of the Truth and Reconciliation Commission, which he takes seriously. As far as call to action #58 is concerned, after carefully considering the request and extensive dialogue with the bishops of Canada, he felt that he could not personally respond," he wrote.
Some 150,000 indigenous children were sent to live in church-run boarding schools between 1880 and 1996, where they were forbidden to speak their language or practise their own culture. Many suffered physical and sexual abuse, or died from poor medical care and neglect.
In 2008, then Prime Minister Stephen Harper issued an apology on behalf of Canadians, calling it "a sad chapter in our history".
A year later, Pope Benedict expressed "his sorrow at the anguish caused by the deplorable conduct of some members of the Church" to a delegation from the Assembly of First Nations, a national advocacy organization, who went to the Vatican.