Boston changes Red Sox ballpark street name after race row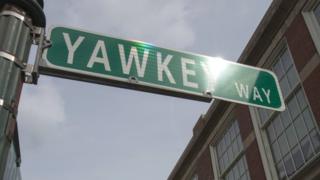 Boston has voted to change the address of the Red Sox ballpark amid a race row.
Yawkey Way was named after former Red Sox owner Tom Yawkey, but the team itself petitioned to drop the name because of his alleged racism.
The Massachusetts city's public improvement committee voted unanimously to approve the proposal.
The public street, which is adjacent to Fenway Park, will now revert back to its original name of Jersey Street.
The Red Sox said the change was to "reinforce that Fenway Park is inclusive and welcoming to all".
Current Red Sox owner John Henry had said he was "haunted" by what he called the team's racist past.
Under Yawkey, the Red Sox were the last Major League Baseball team to end racial segregation.
He once allegedly shouted a racial slur at black players, including the legendary Jackie Robinson.
Yawkey owned the team from 1933 until his death in 1976. Jersey Street was renamed in his honour a year after he died.
In a statement online, the Yawkey Foundations charity acknowledged there were strong feelings about the team's "record concerning race and inclusivity".
But it said "the full picture of Tom Yawkey's life more than justified keeping the name Yawkey Way".
The charity said it was hopeful he "will be remembered as the good and decent man he truly was".
The petition to change the name was filed in February by the baseball team.
Red Sox fans took to social media in the wake of the city's decision.
Some felt the change was unnecessary, especially given the Yawkey Foundations' charitable work.
Others felt it was the right step forward for the city.
Mr Henry has said previous mayoral administrations were not open to changing the name of the street because they thought it was "a can of worms".
"For me, personally, the street name has always been a consistent reminder that it is our job to ensure the Red Sox are not just multi-cultural, but stand for as many of the right things in our community as we can - particularly in our African-American community and in the Dominican community that has embraced us so fully," Mr Henry told the Boston Herald last year.
A spokeswoman for current Boston Mayor Marty Walsh told local media that the city leader was supportive of the name change.
It is the latest US city to distance itself from a controversial historical figure.
The removal of statues in many southern states has sparked a larger debate around the nation's racial legacy.