Halifax Valentine's Day mass murder plot woman sentenced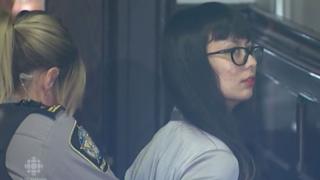 An American woman who planned a mass shooting has been sentenced in a Canadian court to life in prison.
Lindsay Kantha Souvannarath, 26, of Geneva, Illinois, was arrested in 2015 at the Halifax airport.
Along with two Canadians, she plotted a mass shooting on Valentine's Day at a mall in the Canadian city.
Souvannarath met one co-conspirator, James Gamble, 19, online and they bonded over a shared fascination with the 1999 Columbine school shooting.
She pleaded guilty last year to plotting with Gamble to use rifles and Molotov cocktails to kill people at a Halifax food court on 14 February 2015.
Gamble began messaging Souvannarath in December 2014 when he discovered her Tumblr blog, which was titled "School Shooter Chic".
They quickly bonded over their shared interest in the Columbine shooting and Nazism, court documents show.
They spent the next two months plotting the Valentine's Day massacre, choosing a mall because it would cause the most chaos, according to court documents.
They titled their plan "Der Untergang" - The Downfall. The two were so obsessed with Columbine they even believed they were the reincarnations of Eric Harris and Dylan Klebold, according to a report by Columbine lead investigator Kate Battan.
Ms Battan was contacted by the Royal Canadian Mounted Police (RCMP) to analyse Souvannarath and Gamble's correspondences to determine if they were planning another Columbine-style shooting.
Her report includes their chilling messages.
"Maybe Eric and Dylan have somehow become us, become part of our minds," Souvannarath says, according to the report, which was released during her sentencing hearing and obtained by The Canadian Press.
"We both feel like we 'died' a long time ago, maybe it's because we've taken on the minds of these actual dead people, and that marks the time we both died."
Former high school friend Sabrina Szigeti told CBC she was not surprised Souvannarath was behind the plot. The two had played Dungeons and Dragons together in high school, and Szigeti said Souvannarath always insisted on being a "Nazi ghost".
"Most of us would play gentle giants and elves," she said. "It was really weird."
The plot was foiled after police received a tip from Crime Stoppers a day before the planned shooting spree.
Gamble committed suicide as police closed in on his home.
Souvannarath will not be eligible for parole for 7 years, with credit for time served.
A third Canadian, Randall Steven Shepherd, who has been described as a cheerleader of the planned massacre, pleaded guilty to conspiracy to commit murder in November 2016.
He was sentenced to 10 years in prison.