Senator Tammy Duckworth makes history by taking baby to work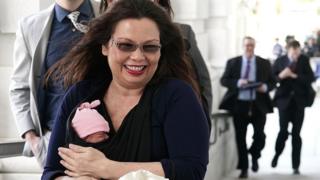 Illinois Senator Tammy Duckworth has brought her baby to the floor of the US Congress' upper chamber a day after it overturned a longstanding baby ban.
Ms Duckworth, 50, arrived with daughter Maile in her arms, and cast a vote on the Nasa administrator's nomination.
Wearing a pink bonnet, Maile's history-making debut on the hallowed floor of the US Senate came at just 10 days old.
Last week her mother became the first US senator to give birth while in office.
The bouncing bundle of joy has reignited a debate about US maternity policies. It is the only developed country in the world that does not offer paid leave to new parents.
Senators voted unanimously on Wednesday to allow infants in the chamber, arguing a more family-friendly policy would set an example to the nation.
Ms Duckworth shared a photo of her daughter's outfit options on Twitter.
"I made sure she has a jacket so she doesn't violate the Senate floor dress code (which requires blazers)," she joked.
"I'm not sure what the policy is on duckling onesies, but I think we're ready."
Senator Amy Klobuchar said babies should be exempt from Senate dress codes.
Ms Duckworth - a double amputee and Iraq War veteran - has praised her colleagues' vote for working parents.
After Thursday's Nasa vote, Ms Duckworth lingered on the Senate floor greeting senators who gathered to coo over her infant.
Senate rules committee chairman Roy Blunt said being a parent was a difficult job and the chamber's rules should not make it any harder.
"I'm glad we were able to get this done to address the needs of parents in the Senate," he said.
"I congratulate Sen Duckworth and her family, and look forward to meeting her daughter."
Ms Duckworth gave birth to Maile - her second child - in a suburban Washington DC hospital.
She was already one of only 10 American women ever to give birth while holding elected office in the US Congress.
Her first child, Abigail, was born in 2014 while she was serving in the US House of Representatives.
Ms Duckworth underwent fertility treatment before conceiving both girls.