Syracuse University fraternity suspended over 'extremely racist' video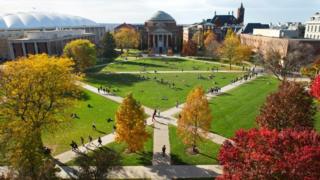 Syracuse University in New York has suspended a fraternity chapter after members were filmed using "extremely racist" and "homophobic" language, the university's chancellor said.
Kent Syverud called the footage "extremely troubling and disturbing".
The video came to the attention of the staff after it was published by a university newspaper on Wednesday.
It shows students using racist, sexist, and homophobic language, as well as performing pretend sex acts.
The video was reportedly posted to a secret Facebook page but was discovered and published by the university newspaper, the Daily Orange.
The university suspended the engineering fraternity, Theta Tau, following protests by students on campus on Wednesday afternoon.
"I am appalled and shaken by this and deeply concerned for all members of our community," Mr Syverud wrote in an email to all students.
"The conduct is deeply harmful and contrary to the values and community standards we expect of our students. There is absolutely no place at Syracuse University for behaviour or language that degrades any individual or group's race, ethnicity, sexuality, gender identity, disability or religious beliefs," he wrote.
Fraternities are student groups, usually based in residential houses, that operate with a high degree of autonomy. They have been caught up in several high-profile controversies in recent years, including the death of a student at Penn State University last year following a drinking game.
Two public forums were held at Syracuse following the publication of the video.
Speaking at one of the forums, Charity Luster, vice president of the university's National Society of Black Engineers, said: "I hope this event does not just spark a conversation on one video, but that it sparks a conversation around how people of colour and underrepresented people are treated on this campus."