Kansas militia men guilty of plot to bomb Somalis' mosque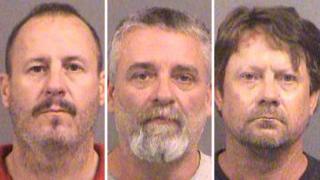 Three men have been found guilty of plotting to bomb Somali immigrants at a mosque and apartment complex in the US state of Kansas.
A federal jury in Wichita convicted Curtis Allen, 50, Gavin Wright, 49, and Patrick Eugene Stein, 49, who belonged to a militia called the Crusaders.
Armed with guns and explosives, the trio planned to strike a day after the November 2016 US elections.
But the Garden City plotters were infiltrated by an FBI informant.
The suspects, who planned to detonate four vehicles packed with explosives at the corners of the apartment complex, were arrested about a month before election day.
Following a four-week trial, the three were convicted on Wednesday of one count of conspiracy to use a weapon of mass destruction and one count of conspiracy against civil rights.
The defendants' legal team acknowledged their clients had referred to Muslim as "cockroaches", but argued their plot was all talk.
However, Assistant US Attorney Anthony Mattivi, for the prosecution, said in court on Tuesday: "Their ultimate goal was to wake people up and to slaughter every man, woman and child in the building."
Allen, Wright and Stein face life in prison when sentenced in June.