Trudeau met by anti-Kinder Morgan pipeline protests in UK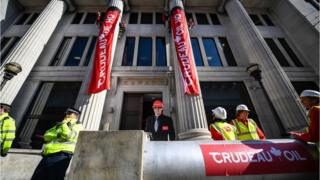 Canadian PM Justin Trudeau was met in the UK with anti-pipeline protesters angry over the controversial Kinder Morgan project.
Mr Trudeau says Kinder Morgan's Trans Mountain pipeline expansion is in the national economic interest.
The British Columbia (BC) government, environmentalists, and some First Nations fiercely oppose the project.
It received federal approval in 2016 but faces legal and regulatory challenges from BC.
On Wednesday, Greenpeace activists unveiled anti-oil banners with the words "Crudeau oil" at the entrance to the Canadian High Commission in Trafalgar Square in London, and built a mock pipeline.
Mr Trudeau is in the UK for a Commonwealth leaders' meeting.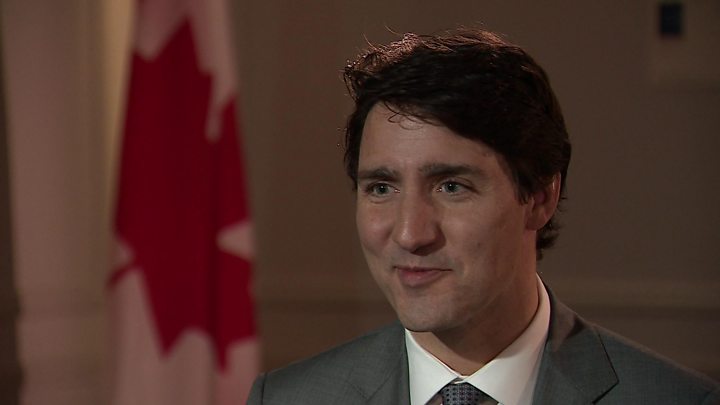 Kinder Morgan, the company behind the pipeline, recently suspended non-essential spending on the project.
The company's announcement ramped up the fight over the contentious project, which has pit the federal government and the province of Alberta against BC.
The Trans Mountain Alberta-to-British Columbia project would twin an existing pipeline and increase its capacity from 300,000 barrels a day to 890,000 barrels a day.
The energy infrastructure company said it was no longer committing resources to the project given the continued actions to oppose it by the BC government.
Kinder Morgan said it would decide on the pipeline project's fate on 31 May.
Alberta has tabled legislation to limit oil and gas exports to the west coast province in retaliation against BC's delay tactics. Another energy producing province, Saskatchewan, has threatened to follow suit.
Mr Trudeau's Liberal government is preparing federal legislation to reassert the federal government's jurisdiction over the energy project.
Both federal and Alberta governments say they are considering financial help to ensure the project gets built.
Opponents of the Kinder Morgan project are concerned over the environmental impact of extracting more fossil fuels from Alberta's oil sands and the possibility of an oil tanker spill in Canada's Pacific waters.
Canada lacks capacity to get its oil to tidewater, which would allow it to diversify its energy market.