Why Canada is suing Australia over a magic possum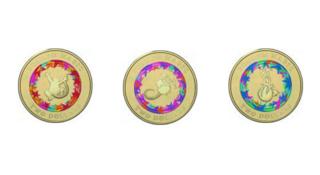 The Royal Canadian Mint has a bone to pick with its Australian counterpart - a possum bone that is.
The Canadian corporation is suing the Royal Australian Mint over a coin that celebrates the popular Possum Magic children's book series.
Their issue is not with the furry marsupial but with Australia's method for printing colour on to coins, for which Canada claims to own the patent.
But Australia claims it uses different methods, court documents show.
Canada first sued the Royal Australian Mint in an Australian Federal Court last December over an Australian Remembrance Day commemorative coin.
The AU$2 ($1.50, £1) coin bears a vermillion poppy at its centre, and Canada claims it infringes on its patent for the method of manufacturing coloured metallic coins.
In March, the Canadian mint filed additional court documents claiming there were five other infringing coins, including two more Remembrance Day coins and the Possum Magic coin, which was released through the Woolworths chain of supermarkets in 2017.
Possum Magic is a picture book published in 1983 by Australian author Mem Fox, and the coins feature the book's iconic illustrations.
The Royal Canadian Mint is asking Australia to destroy the allegedly infringing coins remaining in the mint, and to prevent them from joining circulation. It is also seeking damages and costs associated with the lawsuit.
The Royal Australian Mint has been aware of Canada's claims since 2015, when a representative for the Canadian mint contacted them to try to resolve the issue informally, court documents show.
The two parties even went so far as to meet in person at the World Money Fair in Berlin in 2016, but to no avail.
The Australian mint argues that the methods they used are "sufficiently different", and both parties say they are prepared to defend their claims in court.