Miami cheerleader 'bullied for being a virgin', complaint claims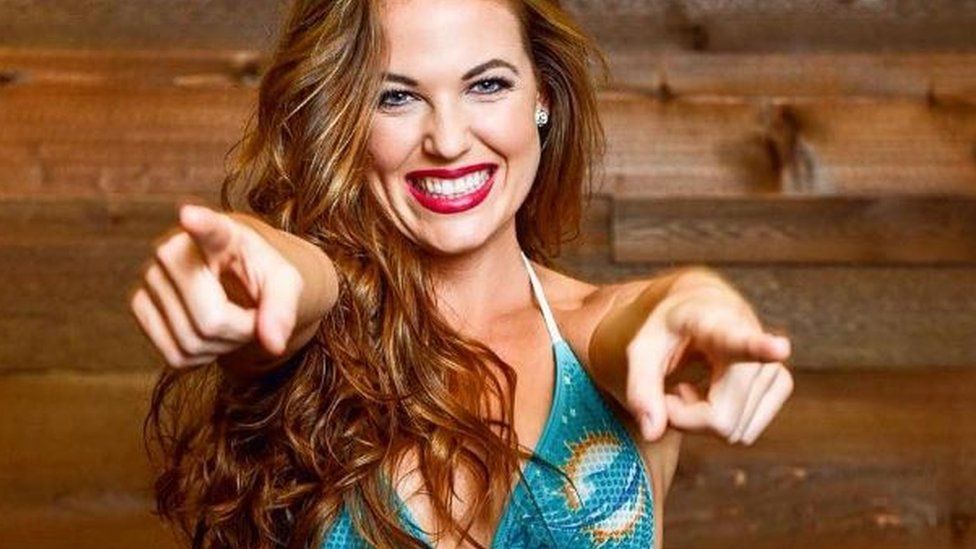 A former cheerleader for the Miami Dolphins has filed a formal complaint against the team, claiming she was bullied due to her faith and virginity.
Kristan Ann Ware, 27, says she quit the dance squad after a 2016 interview with the team director during which her sexual history was discussed.
She is not the first cheerleader to complain of a hostile work environment.
A former New Orleans Saints cheerleader claims that she was fired for a social media post of herself wearing lingerie.
Ms Ware told the BBC her complaint, which was submitted to the Florida Commission on Human Relations on Wednesday, should not be misconstrued as an attack on the American football team.
"I am not against them. I just want to make it a better place for the cheerleaders," she said in a telephone interview on Friday.
Ms Ware quit the team after three years, claiming that an incident on a coach bus in London led to ongoing harassment.
When her team played the New York Jets at Wembley Stadium in the fall of 2015, the dancers talked about their "sex playlist", Ms Ware says in her complaint.
Ms Ware "was pushed to give her playlist," she claims, which prompted her to admit she was a virgin.
"Kristan told her teammates that she was waiting until she was married because of her personal relationship with God," her lawyer Sara Blackwell states in the complaint.
Later, during a yearly performance review in which dancers must reapply for their jobs, Ms Ware says the team director, Dorie Grogan, confronted her about the claim.
"Let's talk about the fact that you're a virgin", she claims the director said.
Ms Ware claims she was told not to discuss her virginity any further, according to her lawyer.
A team source told the BBC that "in 2016, we were made aware of an incident with our cheerleaders that fell short of our standards and expectations.
"We immediately addressed the issue and reprimanded the supervisor, who subsequently apologised to the entire team."
But Ms Grogan is still serving in her same role, according to US media reports.
As part of her claim, Ms Ware argues the team's main Instagram account did not promote her posts that mentioned her Christian religion.
She also says that when she wrote a "motivation Monday" story for the Dolphins blog about her audition for the team, her references to God and Christ were edited out.
The Miami Dolphins said in a statement to the BBC News: "We are seriously committed to providing a positive work environment for everyone associated with the organisation.
"We hold every member of our organisation to the same standards and do not discriminate as it relates to gender, race and religious beliefs."
In a statement to US media, the National Football League (NFL) says the organisation and its teams "support fair employment practices".
"Everyone who works in the NFL, including cheerleaders, has the right to work in a positive and respectful environment that is free from any and all forms of harassment and discrimination and fully complies with state and federal laws."
Reporting by Riley Legault