Chelsea Hotel: Bob Dylan's door sells for $100,000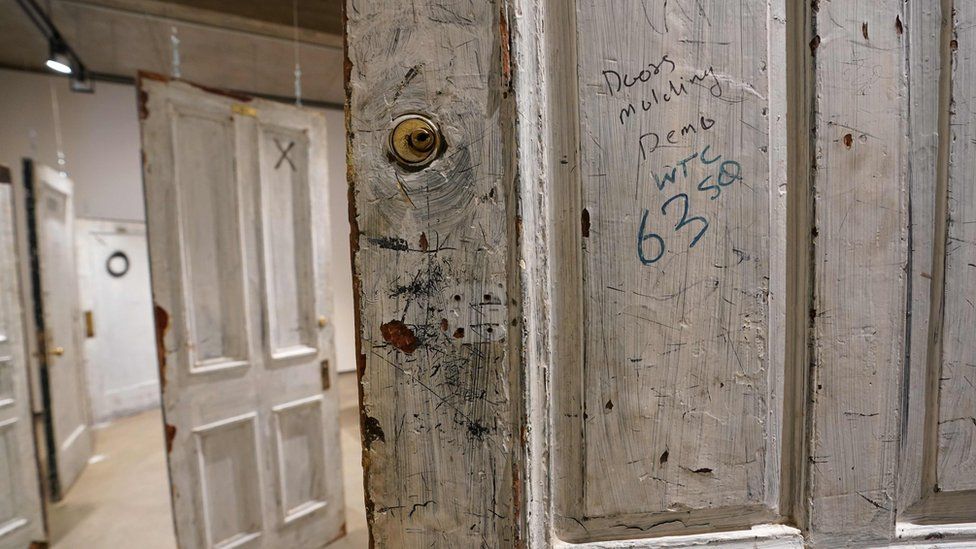 The door to US singer Bob Dylan's room at the iconic Chelsea Hotel in New York has sold at auction for $100,000 (£70,000).
It was one of 50 doors from the hotel, where a host of stars stayed over the years, to be sold.
The door to a room used by singers Janis Joplin and Leonard Cohen during an affair, as well as the singer Joni Mitchell, fetched $85,000.
A former tenant acquired the doors after renovation work began in 2011.
The hotel, built in the 1880s, became a long-term residence for generations of singers, bohemians and writers.
Jack Kerouac wrote his classic book On the Road while staying there in the 1950s. The door to his room sold at auction for $30,000.
The hotel also served as a residence for writers Mark Twain and Tom Wolfe, and science fiction writer Arthur C Clarke wrote the screenplay for 2001: A Space Odyssey there.
The most infamous incident to take place in the building came in 1978, when Sid Vicious from the UK punk band the Sex Pistols was charged with murder after Nancy Spungen was found stabbed to death in the room they shared. Vicious died of a heroin overdose before the case came to trial.
Other doors to go under the hammer at Guernsey's auction house included that of actress Edie Sedgwick's room, where artist Andy Warhol filmed Chelsea Girls. It sold for $52,500. The door to guitarist Jimi Hendrix's room went for $13,000. The door to a room used by singer Madonna, actress Isabella Rosselini and filmmaker Shirley Clarke sold for $13,000.
The doors were rescued by a former tenant, Jim Georgiou, who saw them being thrown away and arranged to take possession of them.
The building was designated a city landmark in 1966 and was sold in 2016 to a group of investors. It stopped taking new bookings in 2011 but a small group of long-term residents are still living on the upper floors while the renovation work continues.