Floyd Mayweather bodyguard wounded in Atlanta shooting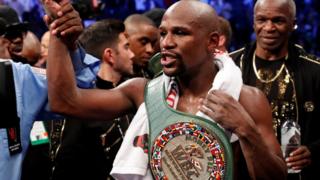 A bodyguard for the US boxer, Floyd Mayweather Jr, has been wounded after a gunman opened fire on the boxer's motorcade in the city of Atlanta.
Gregory La Rosa was shot in the leg but released from hospital three hours later, police said.
Mayweather was believed to be in a separate vehicle and was unharmed.
Atlanta police said the incident did not appear to have been random and that Mr La Rosa's vehicle had been targeted, though it is not clear why.
Local police said that preliminary findings suggested the attacker had prior knowledge of the entourage or its vehicles.
The Mayweather party had left a restaurant in the early hours after attending a nightclub.
Atlanta police spokesman Donald Hannah said it was not known whether an incident earlier in the evening had triggered the shooting.
You may also like:
Mayweather, 41, says that he has retired from the sport.
In August 2017, he defeated the renowned mixed-martial arts fighter Conor McGregor to extend his perfect career record to 50 unbeaten fights.
The Mayweather v McGregor fight is said to have generated more than £450m, making it one of the richest bouts in boxing history.