Tammy Duckworth becomes first US senator in office to give birth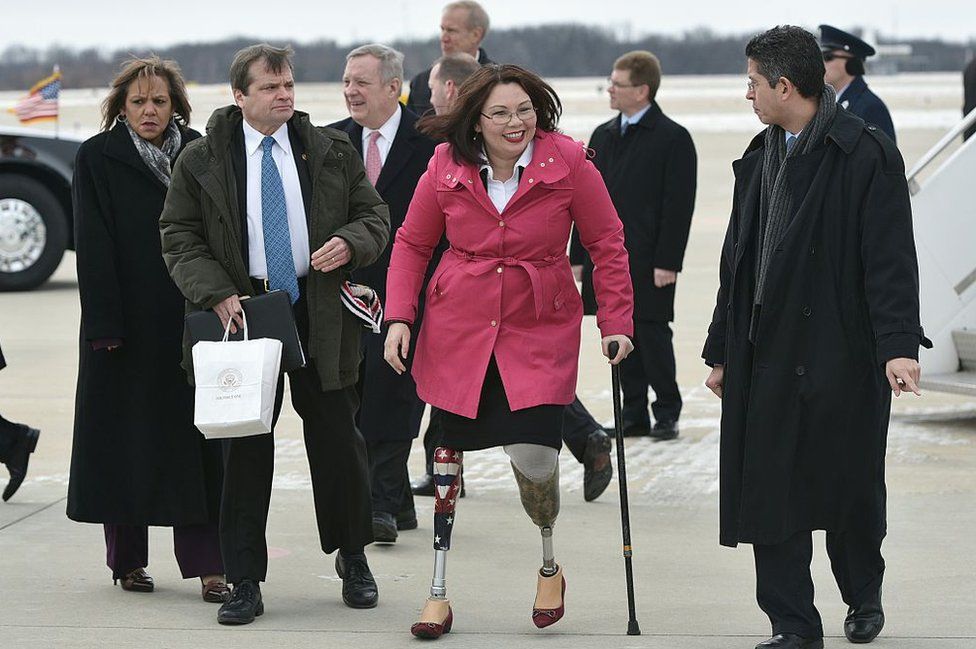 US Senator Tammy Duckworth, 50, has given birth to a daughter, becoming the first sitting female US senator to give birth while in office.
The Illinois Democrat said on Twitter that Maile Pearl Bowlsbey was named after her husband's great aunt, who served as a nurse during World War Two.
In a series of tweets, she also thanked her family and medical team.
Ms Duckworth is an ex-army helicopter pilot who had both her legs amputated after crashing in Iraq in 2004.
The Iraq War veteran had previously made history when she became the first disabled woman elected to the US senate.
She becomes one of only 10 women to ever give birth while holding elected federal office, according to US media.
Baby Maile - the couple's second daughter - was born in a suburban Washington DC hospital on Monday.
"Parenthood isn't just a women's issue, it's an economic issue and one that affects all parents - men and women alike," she said in a statement.
"As tough as juggling the demands of motherhood and being a Senator can be, I'm hardly alone or unique as a working parent, and my children only make me more committed to doing my job and standing up for hardworking families everywhere," she continued.
Last month senators from both parties, as well as their staff, hosted a baby shower for Mrs Duckworth at the US Capitol, according to the Chicago Sun-Times newspaper, which was first to report the birth.
Pearl Bowlsbey Johnson was Bryan's great Aunt, an Army Officer & a nurse who served during the Second World War. He spent many summer months with her while growing up, we feel her presence still and are grateful for her service to our nation during the most challenging of times.

— Tammy Duckworth (@SenDuckworth) April 9, 2018
In January, Mrs Duckworth told the newspaper that getting pregnant with her second child was "a struggle".
"I've had multiple IVF [In Vitro Fertilisation] cycles and a miscarriage trying to conceive again, so we're very grateful," she told the newspaper at the time.
Ms Duckworth's first child, Abigail, was born in 2014 when she was serving in the US House of Representatives.
Ms Duckworth, whose mother was from Thailand, was also among the first Asian-American women ever elected to Congress.
In 2018, Ms Duckworth has authored several bills to help new mothers, including a bill to make airports offer a place for women to breastfeed or pump milk.
She has also called for the military to enact a policy to give personal time for new mothers to bond with newborn and adopted babies, and to make sure that student parents have access to on-campus child daycare centres.