Waterslide death: Former park boss charged after boy killed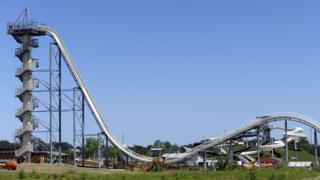 A former executive at an amusement park in the US state of Kansas has been charged over the death of a 10-year-old boy killed on a waterslide in 2016, US media report.
Tyler Miles, an ex-director of operations at the Schlitterbahn Water Park, was charged on several counts including involuntary manslaughter.
The boy who died, Caleb Schwab, suffered head injuries when his raft went airborne and he struck a pole.
Mr Miles pleaded not guilty on Friday.
He was later released on bail, which had been set at $50,000 (£35,000), CBS News reports.
It follows a 19-month investigation into the incident involving Caleb Schwab, the son of state politician Scott Schwab, which occurred on 8 August 2016 in a three-person raft on the Verrückt ride at the water park in Kansas City.
The ride includes a drop of almost 169ft (52m) at 65mph (105km/h).
Company 'disappointed' over charges
According to the criminal indictment presented to the court, the slide had been examined by experts who found evidence indicating that other rafts had gone airborne and collided with overhead poles and netting before the fatality, ABC News reported.
The indictment added that examiners believed that the Verrückt ride "violated nearly all aspects of the longstanding industry safety standards".
It alleges that those responsible for the ride's operation, including the Schlitterbahn company, attempted to conceal information from law enforcement.
On Friday, Schlitterbahn said in a company statement that it was "deeply disappointed" that Mr Miles was being personally charged over the "terrible accident".
"Throughout his employment with us, our operations director, Tyler, demonstrated the highest dedication to safety, from the training of our lifeguards and ride operators, to ensuring all rides have operated in accordance with our strict protocols" the statement reads.
A spokeswoman for Schlitterbahn, Winter Prosapio, said: "Our review of the facts and circumstances of the accident has never shown any evidence of criminal conduct on the part of anyone."
The company has said it plans to contest the allegations.
Mr Miles is scheduled for trial on 10 September.