Stephon Clark: Protests over police shooting shut NBA arena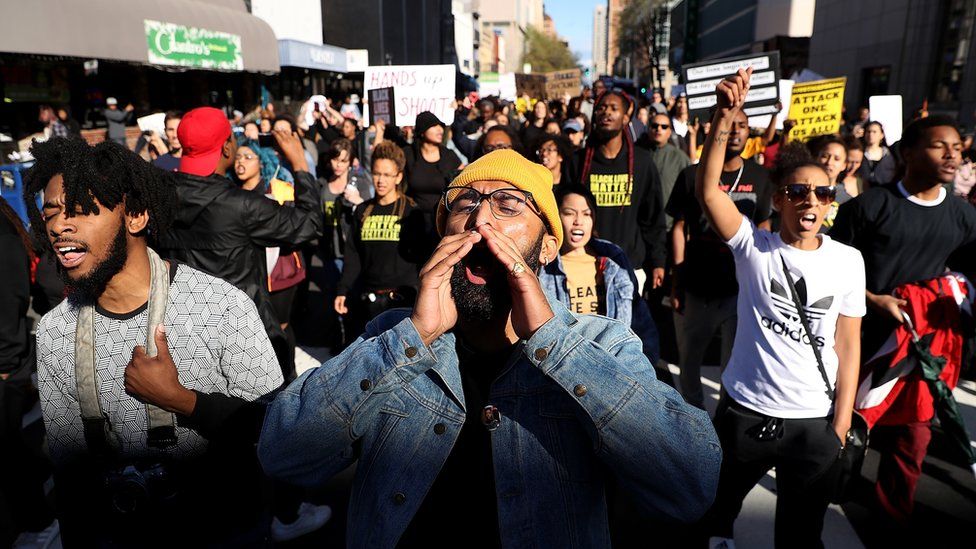 Protesters in Sacramento, California, blocked a motorway and basketball arena over the killing of an unarmed man.
Scores first gathered at city hall, waving signs and demanding action. Scuffles were reported but police said there were no arrests.
The protests were sparked by the release of police video showing the killing of Stephon Clark, 22.
Police shot him about 20 times on Sunday night while responding to reports of break-ins in the area.
Officers said they thought Mr Clark, who was black, had a gun, but only a mobile phone was found at the scene.
Sacramento police said the officers were chasing a reported thief who damaged three vehicles in the neighbourhood.
The suspect was seen from a helicopter breaking the glass door of a house before hopping over a fence next door.
Police confronted and killed Mr Clark, a father-of-two, in the backyard of his grandmother's home.
Body camera footage shows it was dark as officers ordered him to show his hands before opening fire as they shouted: "Gun, gun, gun!"
Each officer shot 10 bullets, according to the Sacramento Police Department.
The local Black Lives Matter group organised Thursday's demonstration.
Sacramento police told local media that the two responding officers are now receiving death threats.
They were named on Friday by a lawyer based in Oakland, California.
Black Lives Matter called on police to fire them, and for prosecutors to charge them with murder.
After the release of the video on Wednesday night, protesters marched into Sacramento city hall at 15:00 local time (21:00 GMT) on Thursday.
The demonstrators then marched to Interstate 5, reportedly standing in front of vehicles chanting: "Don't shoot, it's a cell phone."
The motorway was blocked in both directions and caused mile-long traffic jams.
The protesters then moved to the Golden 1 Centre, where the Sacramento Kings were scheduled to play the Atlanta Hawks at 19:00.
Arena security teams blocked entrance to the stadium, leaving protesters and ticket holders outside.
Forty minutes after the planned start time, the Kings announced they would not allow in any more spectators.
Only about 2,000 of 17,000 ticket holders managed to take their seats before the game began after a delay.
Police in riot gear arrived at the arena shortly after the protesters.
While some at the arena expressed support for the protests, others were angry at the disruption.
"I feel their pain, but why do we have to suffer as well? We paid a lot of money for these tickets. I hope they give us a refund."