Why this photo of a US-Saudi meeting sparked outrage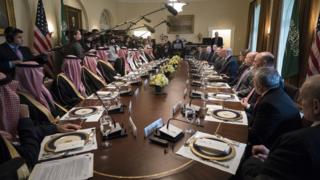 Saudi Crown Prince Mohammed bin Salman's meeting with President Donald Trump was notable for many reasons.
Ahead of his arrival in the US, the crown prince pledged that Riyadh would "enter a nuclear arms race" if Iran ever acquired nuclear weapons.
And during the visit, Congress rejected a bill to withhold US military aid to Saudi Arabia over the war in Yemen.
But for social media users, something else stood out: a meeting of at least 20 men and no women.
The two leaders and over a dozen of their advisors and senior officials attended the working lunch on 20 March, but the only women in the room were part of the press corps.
The disparity was pointed out on Twitter in a post shared over 10,000 times.
On the US side, it is not the first time that Mr Trump has faced criticism for the absence of women at key moments in the White House.
One photo in January 2017 struck a particular nerve after showing an all-male panel watching as the president signed a law preventing federal money going to international groups which provide abortions or information about them.
Critics argued that the photo showed men were making decisions about women's bodies.
Although the president's daughter and senior advisor Ivanka Trump has previously met Saudi delegations, she was not present for Tuesday's meeting.
Saudi Arabia, meanwhile, is a deeply conservative country. But Mohammed bin Salman has sought to present himself as a reformer, especially when it comes to the subject of women's rights.
Since becoming crown prince last year, he has been credited with a number of initiatives that benefit women. The most high-profile of these changes - lifting the ban on women drivers - is due to come into effect in June later this year.
Others include allowing women to attend a football match for the first time and allowing women to open businesses without permission from their male guardian.
But critics argue that the country is still a very long way from true gender equality, as the White House photo shows.
A small number of users argued that the lack of women in the picture was not due to a lack of equality and that to imply otherwise was in itself sexist.
You may also like: