US senators have snowball fight on Capitol Hill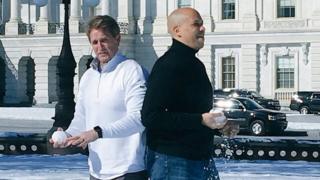 Washington DC has been the scene of many conflicts between political rivals. However, after a storm blanketed two senators found a new battleground.
Cory Booker, the Democratic senator of New Jersey, threw down the gauntlet on Twitter, challenging Republican senator for Arizona, Jeff Flake, to a snowball fight.
Senator Booker referenced the 1804 duel between Alexander Hamilton and his political rival Aaron Burr in his announcement of the showdown.
While Mr Hamilton died as a result of losing that duel, in this case Senator Booker simply wagered buying pizza for the winner's staff.
Senator Flake also announced the "literal" fight which took place on the east lawn of Capitol Hill.
As the action unfolded, Washington Post reporter Paul Kane seemed nonplussed by the battle taking place outside his window.
Senator Flake posted an action shot of the snowball fight, stating his opponent's "drop and roll manoeuvre was legit".
The senator also made reference to the recent threats of physical violence between President Donald Trump and former vice-president Joe Biden.
The president suggested Mr Biden would "go down fast and hard, crying all the way" in response to Mr Biden stating that he would have "beat the hell" out of Mr Trump if they had attended school together.
It is not the first time that Mr Flake has publicly referred to Mr Trump's behaviour while in office.
He announced in 2017 that he would not seek re-election as a Republican senator and admonished Mr Trump as "reckless, outrageous and undignified".
Half an hour after the snowball fight was announced, Mr Booker admitted defeat.
Mr Booker reflected that he "should have known" he would lose the fight, given Mr Flake's name, as well the fact that he comes from a town called Snowflake in Arizona.
By George Pierpoint, UGC and Social News