Missouri police officer sent to wrong address and shot dead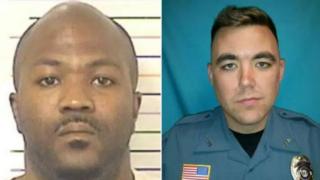 A Missouri police officer was fatally shot while responding to a 911 call at the wrong house, authorities have said.
Officer Ryan Morton and two colleagues were shot by a suspect upon entering the incorrect home 15 miles (24km) from the intended address.
James Waters, 37, allegedly shot Morton and injured the two others, police say. He was later found dead by a SWAT team.
Investigators have not determined whether Waters shot himself or was killed by the officers.
It is still unclear why the officers were sent to the wrong address in Clinton when they should have been sent to a house in Windsor, according to Missouri Highway Patrol Sgt Bill Lowe.
Officer Nathan Bettencourt was in stable condition on Wednesday and Officer Nicholas Kasper was treated for gunshot wounds and released.
Morton, 30, and the two officers were responding to a 911 call in which two women could be heard arguing in the background, Sgt Lowe said.
The three officers entered the house to see if there was any criminal activity when they were shot, according to police.
It took two to three hours before a SWAT team was able to enter the home, according to a Missouri State Highway Patrol news release.
A woman who lived there, Tammy Widger, was charged with possession of methamphetamine with intent to deliver and maintaining a public nuisance, according to Henry County Prosecuting Attorney Richard Shields.
"It is a coincidence they were called to that specific address," Sgt Lowe said.
"It is tragic that happened. But the fact is they were in the act of committing crimes within that house. When (the officers) entered that house they were doing what they needed to ensure no one was hurt and there wasn't any other problems," he said.
Morton is the second police officer to be killed in the line of duty in Clinton over the past year.
He served in the army and was deployed twice. He returned from Afghanistan in 2014 May, the Star reported.
Waters had previously been arrested and jailed for drugs and resisting arrest.