Tree 'planted by George Washington' toppled in winter storm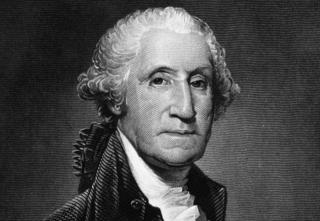 A more than 200-year-old tree planted by the first US President George Washington was toppled in a winter storm, according to his estate.
Mr Washington allegedly planted the Canadian Hemlock at his Mount Vernon estate in Virginia, an official said.
The tree was one of many brought down by powerful winds that swept through the US east coast over the weekend.
About 244,000 people were still without power across the region on Monday as a result of the weekend storm.
The storm was blamed for nine deaths in Virginia, Maryland, New York, Pennsylvania, Massachusetts and Rhode Island. Many of the deaths were caused by fallen trees, authorities said.
Rob Shenk, the senior vice president of visitor engagement at Mr Washington's Mount Vernon estate, tweeted on Saturday about the loss of the tree and its historical significance.
On Monday he tweeted what he said was an entry from Mr Washington's diary on 13 July 1785.
He added it was "sent by General Lincoln from Massachusetts".
The tree will likely be repurposed but it is unclear how it will be used, Mr Shenk said on Twitter.