Cancer survivor fined for driving patients to hospital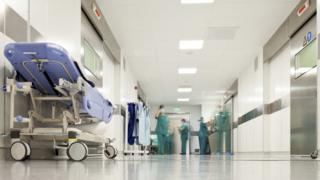 A Canadian breast cancer survivor has fallen foul of a bylaw for ferrying patients to hospital appointments.
The 58-year-old woman of London, Ontario, was fined C$2,600 ($2,015; £1,465) for operating a vehicle for hire without a licence.
Hospital staff told the local newspaper they considered her service indispensable to some patients.
But city officers, one posing as a cancer patient, caught her in a sting operation.
The woman, who lives on a fixed income, has been transporting patients unable to drive themselves for $12 - enough to cover her gas and car maintenance - to-and-from the hospital for about three years.
"I'm devastated," she told the London Free Press, which first reported on the fine.
"I had cancer and I just wanted to give back to the community."
However, the woman also conceded that she had previously been warned about offering driving services to people who were not going to the hospital.
Over $8,000 was raised over two days to help her pay her fine and related paralegal fees.
"It just drives me crazy when bureaucrats find a way to punish people for doing sensible, altruistic things," Jeff Schlemmer, who started the online fund, told Global News.
Mr Schlemmer told a local radio station that he is now offering refunds to donors since it was revealed that she had been previously warned about her services, which extended beyond hospital visits.
The newspaper did not name the woman. She requested anonymity because she was concerned about the impact it might have on her provincial disability payments.
The city bylaw office confirmed they fined the woman after receiving a complaint.
During her own cancer battle, the woman said she realised it could be prohibitively expensive to get to appointments for patients who did not have people to drive them, or who were booked for treatments that prevented them from being able to drive.
She has been providing about 20 round trips each month.
A doctor told the newspaper that some patients might have to delay treatment if the woman is not able to resume her service.
The matter is to be raised at a city council meeting next week.