NYC to pay Muslim women forced to remove hijabs for mugshots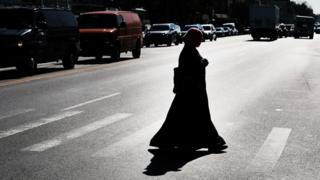 New York City has reached a settlement with three women who had their Muslim headscarves removed by police before mugshots were taken in their arrest.
Each woman will receive $60,000 (£44,000), an official with the New York City Law Department told BBC News.
A lawyer for the women applauded the decision, calling it "a good step in the right direction" towards addressing police policy on head coverings.
The case stems from a 2012 mugshot of a teenager suspected of fighting.
The girl - identified in the court filing as "G.E." - refused to remove her hijab, or head covering, at a local Brooklyn precinct and was taken to a private room where a female officer took her photo.
But after she was moved to the central booking station, officers said they were unable to take a second photo in private because the camera was in a fixed position.
She was then required to removed her hijab for around 20 minutes in the presence of police and other prisoners - a move which her lawyer said left her feeling "exposed, violated and distraught".
Her criminal case was dismissed but a civil case had been ongoing before Monday's settlement.
Tahanie Aboushi, the lawyer who represented the three Muslim women, told the BBC that "the settlements are a good step in the right direction to address this issue not just for women who wear hijab but also for people of other faiths".
In 2015, the New York Police Department issued new guidance to officers requiring them to tell detained suspects with head coverings that they can have their mugshot taken in private by an officer of their same gender.
Ms Aboushi told the New York Daily News that additional directives were issued to officers in December 2017 on religious headwear.
She said the police decision was a "collaborative" effort and an attempt to "establish good precedent", noting that several religions have head covering requirements.
New York City Law Department spokeswoman Kimberly Joyce told the BBC on Wednesday: "The resolution of these matters were in the best interest of all parties involved."
More on hijabs