A one-man rescue mission in Vietnam War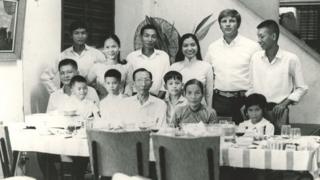 Dick Swanson first went to Vietnam as a war photographer. James Jeffrey tells the story of Swanson's return - on a rescue mission for his 12 Vietnamese family members.
When American photojournalist Dick Swanson first set eyes on local reporter Germaine Loc in Saigon in 1966, he thought she was beautiful, but she seemed aloof, too busy for a relationship.
She thought he looked like a scruffy hippie.
Despite that shaky start, they got to know each other better during the 1968 Tet Offensive, when the People's Army of Vietnam and the Viet Cong launched multiple attacks catching South Vietnamese cities by surprise.
"We worked well together, almost as equals," Swanson says.
"After seeing me work in the field she seemed to respect me. What had it taken to impress a woman like this, to whom fighting was as normal as going to the office?"
They married in South Vietnam in 1969 before moving back to the US in 1971, so Swanson could resume his career at Life Magazine's Washington bureau.
Germaine knew her family was strong - they'd fled the communists in 1954 and felt safe in Saigon. But as the war raged on, she asked her new husband, would he rescue them if South Vietnam fell?
"I said of course I would," Swanson remembers.
By early 1975 it was clear that time was running out. On 21 April, South Vietnam's president resigned, amid reports of evacuations. It was time for the Swansons to launch their own rescue mission.
On 26 April, Dick Swanson arrived on the last civilian plane landing in Saigon after a 26-hour flight via Los Angeles, Honolulu, Guam and Hong Kong. He was alone, having persuaded Germaine that it was safer if he travelled without her.
"I didn't have much of a plan," he says. "But the situation was so chaotic a plan wouldn't have been much good."
He met the extended family - 12 in all - at his mother-in-law's Saigon home, as North Vietnamese mortar rounds exploded in the distance.
The main hurdle was getting the family into the US air base, past security guards who were unpredictable and reluctant to admit Vietnamese.
Germaine's sister, Gabrielle, who was married to a colonel in the South Vietnamese air force, had the idea of calling the base to demand an official army truck pick them up the next morning during the curfew.
With its military markings the vehicle would be let through, while Swanson, in order not to draw attention, travelled separately and met them at the base the next day.
Dick got the chance to call Germaine to give her updates, but back in Washington, she struggled to keep busy, taking walks, cooking and watching television to distract herself.
He awoke on 27 April to a city teetering on the brink. Saigon's roads were cut off by invading soldiers, the sounds of missile explosions were getting closer. Stores were being abandoned and looted.
Swanson found the family at the base, but they still needed proper exit papers. He was the only one who had them.
The photographer ran to the US embassy's temporary office on the base and pretended to have come to interview the man in charge for a Life Magazine article.
After the "interview", he gingerly mentioned exit papers and how he was trying to get his entire family out.
The man nodded but said he could do nothing, before pointing out the papers and the stamp, while saying he was going to the toilet.
After stamping the papers, Swanson gathered the family and rushed them across the runway to US Air Force Evacuation Flight 202, headed for Guam.
But South Vietnamese army officials were checking passengers for draft-age men - like Germaine's brothers. So Germaine's mother pretended to be ill to distract them, while the brothers kept their heads down and boarded the plane.
As they took off, Swanson saw thousands of South Vietnamese standing outside the fence surrounding the runway, looking for planes that weren't coming. The family was riding the last fixed-wing military plane out of the country.
After arriving in California at a military base, the family faced three months of quarantine for unspecified health reasons. But Swanson said he "raised hell in front of the world's press", many of whom he knew, and "they kicked us off base".
As they left, a Marine officer who spoke Vietnamese wished them prosperity and a long life in the US.
Friends from the Washington-area neighbourhood where the Swansons lived rallied to help, including President Gerald Ford's chief of staff, Donald Rumsfeld, who offered his basement, and CIA director William Colby's wife, who called to say she had two spare bedrooms.
Having family already settled in the US also helped in finding work. At various points during its 20-year history, all of Germaine's family members held jobs at her renowned Washington restaurant, Germaine's, which she started after her Vietnamese cooking classes became wildly popular.
Eventually the extended family spread across the US, finding love and moving to successful jobs.
"From 12 refugee members of my family, we now have an additional 14 children, who went on to have 15 children themselves, with of course more to come," Germaine Swanson says.
Now in their eighties, the Swansons take life at a slower pace. Dick Swanson says he now considers his role as a photojournalist in the war "neither selfish nor altruistic".
"I grew into photojournalism in a healthy way for the most part," Swanson says. "I attribute that health to early recognition of what I was doing and that I was not inflicting the pain, a process that Germaine helped me with."
Both Dick and Germaine have since returned to visit a changed Vietnam.
"Vietnam is booming," says Ms Swanson. "They build resorts, villas, hotels, shopping centres that go on and on, it never stops."
Despite all the economic development, none of the 12 that fled returned to live there.
"They consider themselves as Americans," she says. "My brothers and sisters left Vietnam where they were young and don't have any regrets."
James Jeffrey is a writer who divides his time between the US, East Africa and the UK writing for various international media. This article first appeared on the BBC Vietnamese Service