India calls claims it was involved in Jaspal Atwal affair 'baseless'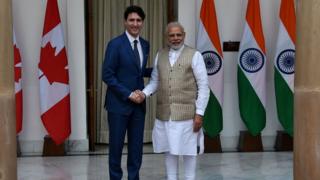 India has said claims that it played a role in the presence of an alleged Sikh separatist at an official event with Canada's PM are "baseless".
Justin Trudeau faced criticism for Jaspal Atwal being invited to a dinner reception during the PM's first official visit to India.
Mr Atwal, a Canadian citizen of Indian origin, was convicted of trying to assassinate an Indian minister in 1986.
He is accused of having been aligned at the time with a Sikh separatist group.
Mr Atwal's invitation embarrassed the visiting delegation, which had been trying to allay concerns it was too soft on separatists who support a Sikh independence movement.
The invitation to a dinner being hosted by Canada's high commissioner was quickly revoked.
Mr Trudeau publicly blamed the snafu on an MP from his party who extended the invite to Mr Atwal.
But as the controversy was unfolding during last week's official visit, a Canadian senior security source suggested to some Canadian journalists that rogue factions within the Indian government helped engineer Mr Atwal's presence in the country.
During a background media briefing, the government source claimed that the factions were concerned the Canadian government did not fully support a united India and were looking to undermine the Canada-India relationship.
In Canada's Parliament on Tuesday, Mr Trudeau defended the claims made by the senior government official when the matter was raised by the opposition Conservatives during a question period.
"When one of our top diplomats and security officials says something to Canadians, it is because they know it to be true," he said.
On Wednesday, India's external affairs spokesman Raveesh Kumar released a statement saying the Indian government had nothing to do with the invitation issued to Mr Atwal, or with his attendance at a Canadian reception in Mumbai.
"Any suggestion to the contrary is baseless and unacceptable," said Mr Kumar.
Why was Jaspal Atwal's invitation controversial?
Indian officials had raised concerns about Sikh separatism, also called the Khalistan movement, in Canada prior to Mr Trudeau's visit.
Canada has a large Sikh community and Mr Trudeau's cabinet includes four Sikh-Canadians.
The Khalistan movement seeks to create a separate independent Sikh homeland in the Sikh-dominated northern state of Punjab.
Last April, Punjab's top elected official, Amarinder Singh, refused to meet Canadian Defence Minister Harjit Sajjan, alleging he was a "Khalistani sympathiser", a claim Mr Sajjan has vehemently denied.
During the visit, Mr Trudeau worked to put any concerns to rest.
He met Mr Singh to give assurances that Canada was not supportive of Sikh separatism.
After the meeting, Mr Singh praised the PM and said those "categorical" assurances came as a "big relief".
That was before Mr Atwal's invitation to the official dinner and photos of him posing with Mr Trudeau's wife, Sophie Gregoire Trudeau, and a Canadian Cabinet minister at a Mumbai reception made headlines.
Mr Atwal was convicted along with three others of shooting Indian minister Malkiat Singh Sidhu while he was in Vancouver on a personal visit in 1986.
Mr Atwal was reportedly a member of the International Sikh Youth Federation (ISYF) at the time of the attack.
The group was later banned in a number of countries, including Canada and India.
Mr Atwal recently denied any involvement with the ISYF and said he no longer supports Khalistani organisations.