Florida inmate screams and thrashes at his execution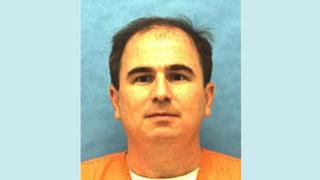 A Florida death row inmate shouted "murderers!" three times and struggled on a gurney as he was put to death.
Eric Scott Branch, 47, was put to death for the 1993 rape and killing of Susan Morris, a 21-year-old student at the University of West Florida.
Branch was sentenced to death in 1994 and spent 24 years on death row.
Before the drug was administered on Thursday, he told correction officers that Governor Rick Scott should be the one to carry out the execution.
"I've learned that you're good people and this is not what you should be doing," Branch said, according to US media.
The Florida governor signed his death warrant in January, after Branch failed to convince judges to overturn his death sentence.
In his latest appeal, he claimed the jury's 10-2 vote to sentence him to death during his trial did not reflect new laws that required jurors to reach a unanimous decision for inmates facing the death penalty.
Florida's old capital punishment system was ruled unconstitutional in 2016, but cases before 2002 were not made exempt under the new law, so Branch's appeal was deemed unsuccessful.
Branch was pronounced dead at 19:05 local time on Thursday (00:05 GMT on Friday).
A spokeswoman for the Department of Corrections said "there was no indication" that his pre-death screams and physical struggle were a result of the injection procedure, according to the Associated Press.
Two other inmates were supposed to be put to death in the US on Thursday, but their lives were spared.
The Texas governor commuted the death sentence of Thomas "Bart" Whitaker, 38, an hour before his execution.
He was convicted over the 2003 murder of his mother and brother.
His father, Kent Whitaker, who was shot in the chest but survived, had pleaded with the state of Texas to save his son's life and change his sentence to life in prison.
His sentence was changed to life without parole.
Meanwhile, the US Supreme Court granted a temporary stay of execution to a cancer-stricken death row inmate in the state of Alabama.
Doyle Lee Hamm, 61, argued his veins were too damaged from cancer and past drug use, and said the lethal injection would be unconstitutionally painful, to which he was granted a delay in his execution.
Hamm was convicted of fatally shooting motel clerk Patrick Cunningham in 1987 in a robbery where $410 was taken.
Capital punishment in the US was reinstated in 1976.