Trump Jr white powder letter: 'You get what you deserve'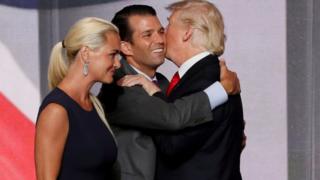 An envelope containing a suspicious white powder, which was opened by the US president's daughter-in-law, Vanessa Trump, also included a written threat.
"You're an awful person and now you get what you deserve," the four-sentence note addressed to Donald Trump Jr read, according to New York media.
Donald Trump Jr's wife opened the letter on Monday and was hospitalised.
The white substance appears to have been corn starch, officials say, and may have been sent from near Boston.
"You are an awful person," the letter posted to the US president's eldest son purportedly read, according to officials quoted in NBC New York.
"This is the reason why people hate you. You are getting what you deserve," the letter said.
Donald Trump Jr's wife taken to hospital
Mrs Trump, 40, had opened the letter after it was handed to her by her mother.
The pair and a third unnamed individual were transported to hospital as a precaution, after Mrs Trump called police to complain of coughing and nausea.
Mrs Trump's five children were not home at the time.
Who is the new first family of the US?
Officials said she did not suffer any ill effects and was decontaminated at the scene.
The Secret Service is still investigating the threat against the Trump family.
In a separate incident on Tuesday, white powder was also sent to former President Barack Obama's office building in Washington, DC.
The letter was discovered in the mailroom of the World Wildlife Fund, where the former president has rented an office since January 2017 when he left the White House.
It is unclear if the letter had been sent to Mr Obama or another worker inside the building.
In both cases, the white powdery substance was tested and found to be non-hazardous.