Olympics: Gay skater Adam Rippon open to meeting Mike Pence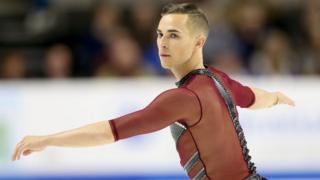 A gay US figure skater has said he is "open" to meeting Vice-President Mike Pence after the Olympic Games are over.
Adam Rippon, 28, declined to confirm reports that he refused a request to meet Mr Pence in Pyeongchang, adding he did not want to distract his teammates.
The skater criticised the White House last month for choosing Mr Pence to lead the US delegation to the Games.
He has accused the vice-president, who arrived in South Korea on Friday, of expressing anti-gay views.
"After the competition I'm open to meeting him and having an open conversation, but opening ceremonies are tomorrow and I've been really focused," Mr Rippon told reporters on Thursday.
When asked if Mr Pence had asked for a meeting, Mr Rippon said: "I don't want to distract from the competition or make this too much for my competitors and my teammates."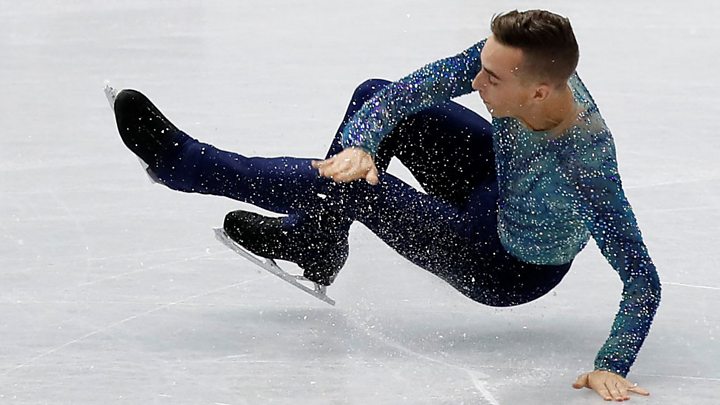 USA Today on Wednesday reported that the skater turned down a meeting request by one of Mr Pence's aides.
The vice-president's communications director Jarrod Agen dismissed the report, saying it was "false and should be corrected".
"As we've said before, the vice-president is supporting all the US athletes in the Olympics and is hoping they all win medal," Mr Agen told reporters in Tokyo.
Mr Pence also tweeted about the reported row, saying he was proud of the athlete.
The spat between the vice-president and Mr Rippon, who is one of two openly gay Olympians competing in the Pyeongchang Winter Games, began last month.
The skater criticised Mr Pence during an interview with USA Today for expressing anti-LGBT views and accused him of supporting gay conversion therapy, which Mr Pence's aides have denied.
"I would absolutely not go out of my way to meet somebody who I felt has gone out of their way to not only show that they aren't a friend of a gay person but that they think that they're sick," Mr Rippon said.
Mr Rippon, who came out in 2016, told the BBC in January he would not feel welcome at the White House because he is gay.
This will be his first time competing in the Olympic Games.