South Carolina train crash: Amtrak 'on the wrong track'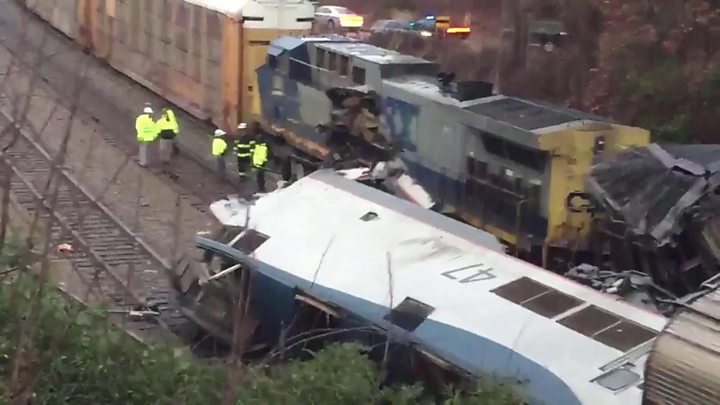 An Amtrak train involved in a deadly crash with a stationary freight train in South Carolina appeared to be on the wrong track, the state governor says.
Officials will investigate whether points in the area misdirected the passenger train.
The Amtrak's engineer and conductor died and 116 people were injured in the crash early on Sunday.
South Carolina Governor Henry McMaster said the incident should "begin a conversation" about rail safety.
Just four days ago, a lorry driver was killed when his vehicle was hit by a train carrying lawmakers in Virginia.
Incorrect points?
Sunday's crash happened at 02:35 local time (07:35 GMT) in the town of Cayce, just outside the state capital, Columbia. The train was travelling from New York to Miami when it hit the goods train, causing its lead engine and several carriages to derail.
The dead Amtrak workers have been named as engineer Michael Kempf, 54, from Georgia, and conductor Michael Cella, 36, of Florida.
Three of the injured were said to be in a serious condition. Most injuries ranged from scratches to broken bones.
President Donald Trump tweeted that his thoughts and prayers were with the victims.
The National Transportation Safety Board is investigating the crash, with the co-operation of CSX, which is responsible for operating the railway in the area.
There had been concern about 5,000 gallons (19,000 litres) of fuel that spilled after the crash but the site has now been declared safe.
There were 139 passengers and eight Amtrak staff on the train.
Governor McMaster said that "it appears the Amtrak was on the wrong track" and the unmanned goods train "was on the track it was supposed to be on".
Sources quoted by NBC News said CSX signals in the area had been taken offline to undergo work.
They said the Amtrak was given verbal approval to take one track but points may have been wrongly set there, sending the Amtrak on to a side track and into the goods train.
A computer system called Positive Train Control (PTC), which the sources said could have prevented the crash, was not in operation in the area. PTC has been delayed in many areas due to costs and technical issues.
The Amtrak was travelling at 59mph (95km/h) upon impact, Governor McMaster said.
He added: "It's a horrible thing to see, to understand what force was involved. The first engine of the freight train was torn up, and the single engine of the passenger train is barely recognisable."
Connecticut Senator Richard Blumenthal reinforced Mr McMaster's call for a rail safety conversation, saying safety had to improve.
Passengers said the crash had caused chaos in the middle of the night.
One, Erin Wittman, told MSNBC: "We just awoke to violent shaking; I just knew immediately we were off the tracks and I couldn't believe it was actually happening."
Concerns about safety standards on the US rail network have been raised after a number of fatal train crashes in recent years:
February 2018: Crozet, Virginia. A lorry driver died after his vehicle hit a chartered Amtrak train carrying Republican lawmakers, including House Speaker Paul Ryan
December 2017: Seattle, Washington. Three people killed when a passenger train plunged off a bridge after hitting a 30mph (50km/h) curve at 80mph
May 2015 - Philadelphia, Pennsylvania. A passenger train derailed, killing eight people
December 2013 - The Bronx, New York City. Four people died when the driver of a passenger train fell asleep and the train took a 30mph curve at 82mph, then derailed