Quebec teen gets surprise skate with hockey great Sidney Crosby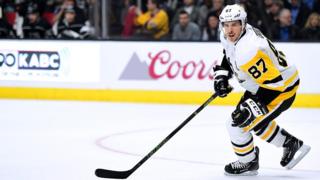 A Canadian teen spending some quality time on an outdoor ice rink got a surprise when hockey legend Sidney Crosby stopped by for a quick skate.
Guillaume Ouimet, 19, was skating alone in Mont Tremblant, Quebec when a jeep pulled up to the rink.
Pittsburgh Penguins' captain Sidney Crosby, one of the best ice hockey players in the world, stepped out of the vehicle.
He asked whether anyone else was going to show up, Mr Ouimet told La Presse.
"I told him it should be quiet and I asked him if he wanted to skate with me," said Mr Ouimet, a junior ice hockey player.
"He looked around, then he told me he was going to get his equipment from the jeep."
The Canadian-born, National Hockey League (NHL) centre, accompanied by his girlfriend, grabbed his hockey gear and plunked down in a snow bank to lace up his skates.
The pair spent the next hour practising drills.
"He didn't want to leave," Mr Ouimet said.
"His girlfriend kept saying they had to be somewhere else, but he asked for an extra 10 minutes each time."
The NHL superstar, who was on holiday in the Canadian province where he played early in his career, told the teen how much he missed skating on outdoor rinks.
After the skate, the pair went to visit the dressing room where Mr Ouimet's junior hockey team gets ready for games.
"He sat on a bench in the dressing room without saying anything for a few minutes," Mr Ouimet told the Montreal newspaper.
"His girlfriend told me he was feeling nostalgic. You saw he was experiencing a lot of memories."
Mr Ouimet said friends doubted his tale of spending a morning with the Olympic medallist and Stanley Cup champion until Mr Crosby's girlfriend sent him the photo she had taken of the pair.