State of the Union: Six things to watch for in Trump's speech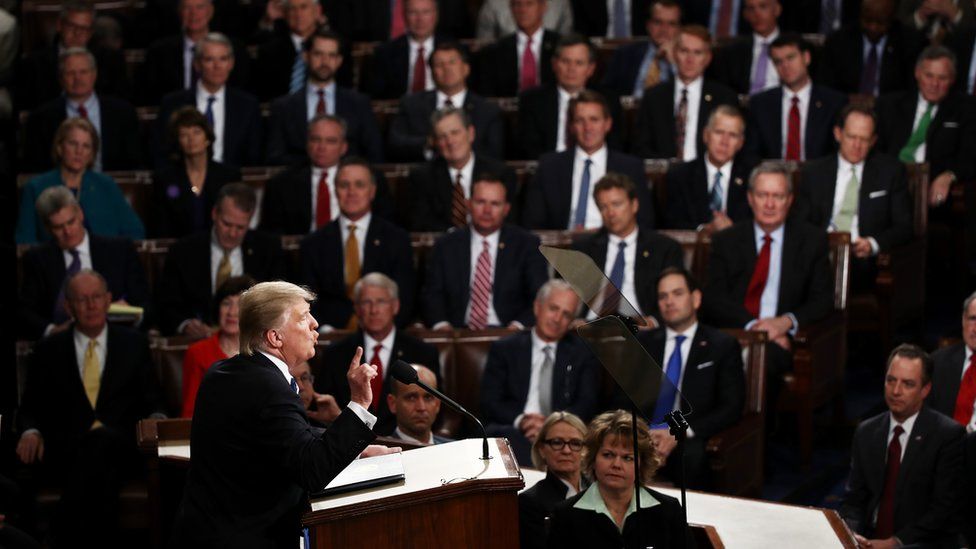 It is the blockbuster US news event of the week, with an estimated 40 million people preparing to tune in to watch President Donald Trump deliver his first State of the Union address.
The keynote speech will be an opportunity for the president to outline his agenda for the next 12 months, shape political policy and highlight past accomplishments.
"It's a big speech, an important speech," Mr Trump said on Monday. But what can we expect?
"The economy will be front and centre," White House spokeswoman Sarah Sanders told reporters on Monday.
After a turbulent first year in office, President Trump is very likely to start with the positives - his tax reforms that were passed through the Senate at the end of last year. They are the most significant overhaul of the US tax code in a generation, slashing corporate and individual tax rates.
Many expect him to link these reforms with America's improving economy, roaring stock markets and lowering unemployment rates.
Plans to rebuild some of America's aging roads and other infrastructure may also get a mention, as well as demands for reciprocal trade with China.
Deep divisions remain between Democrats and Republicans over immigration reform, and the president is expected to push for a bipartisan solution.
At the heart of his proposal are the 700,000 young people who entered the US illegally and without documents as children, so-called Dreamers. His decision to overturn a scheme - Daca - that shields these people from deportation outraged Democrats.
The president may touch on the subject as he is hoping to draw Democrats in with a deal to overturn these plans, in return for securing billions for a proposed border wall with Mexico, and cuts to legal immigration levels.
All eyes and cameras will be trained on at least 24 Democratic lawmakers who are bringing Dreamers as their guests to watch the show, according to ABC News.
3. Presidential or Twitter Trump?
However, just days after this speech, he returned with a claim on Twitter that his predecessor, Barack Obama, had hacked his phones during the presidential campaign.
The tone of his maiden State of the Union address remains to be seen, but many will be wondering whether he will stick to the script - or the teleprompter - like he did last time.
4. The elephant in the room
The issue that has completely overshadowed Donald Trump's first year in office is unlikely to come up today - the investigation into whether he or his campaign colluded with Russia to sway the election in his favour.
Mr Trump has condemned the Russia probe as a witch hunt, though he recently said he would testify under oath if his lawyers agreed.
While it would take many by surprise if he raised the subject, it would not be the first time a sitting president has addressed an ongoing investigation around them.
In 1974 Richard Nixon used his State of the Union address to call for an end to the Watergate investigation, telling lawmakers: "One year of Watergate is enough!"
Months later he resigned over the scandal which involved a web of political spying, sabotage and bribery.
President Bill Clinton adopted a different approach more than two decades later, when he was on trial for perjury and obstruction of justice over an affair with intern Monica Lewinsky. He failed to mention the case in his address in 1999 and was later acquitted of the charges.
5. Kennedy scion gets first response
Joseph Kennedy III, a rising star who is also part of the Kennedy political dynasty, faces the daunting task of delivering the Democrats' response to President Trump's address.
The 37-year-old Massachusetts representative rose to the spotlight after his criticism of Republican attempts to end Obamacare.
His nomination as rebutter-in-chief suggests the Democrats are willing to have a younger generation represent the party. Some observers believe he will appeal to working- and middle-class voters who his party argues have been neglected by Trump.
2016 hopeful Bernie Sanders will also offer his own take on the union address on his various social media platforms.
6. The guests - and the designated survivor
As is customary, the president brings along a group of guests, sometimes called "Skutniks". The name comes from a man, Lenny Skutnik, who was honoured by President Ronald Reagan in his 1982 address after jumping into the icy Potomac river in Maryland to rescue survivors of a plane crash.
President Trump's guests include first responders, military veterans, a welder from Ohio who says he is benefiting from recent tax cuts and the parents of children killed by an El Salvadorean street gang, MS-13, which the president has vowed to wipe out.
Lawmakers are also allowed to bring their own guests. Dreamers, sexual assault victims and victims of gun violence are all said to be on the list of attendees.
Some prominent Democratic legislators won't be showing up at all - including John Lewis, Maxine Waters and Jan Schakowsky - in protest against the president, who has caused outrage in recent weeks over his crude remarks about African countries, leading to accusations of racism.
And at least one member of Trump's cabinet will miss the proceedings - the designated survivor, who remains in a secure location to ensure continuity of government should a catastrophic event occur.