Bill Cosby returns to stage ahead of sexual assault retrial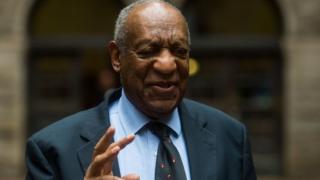 US comedian Bill Cosby has performed his first stand-up gig since 2015, just months ahead of his scheduled retrial for alleged sexual assault.
The 80-year-old entertainer told jokes about aging and going blind at the LaRose Jazz Club in Philadelphia.
His performance on Monday was met with criticism on social media.
Mr Cosby went on trial in 2017 for allegedly molesting a woman at his home in 2004. The jury failed to reach a verdict and a retrial is due in April.
The African American actor, who starred in the 1980s TV series the Cosby Show, denies all allegations and says any encounters with his accusers, including with the Canadian woman he faces trial for assaulting, were consensual.
Monday's performance, which took place at an event to honour drummer and jazz great Tony Williams, was a last-minute gig and the entertainer's first in almost three years.
Online video footage showed a casually dressed Mr Cosby, seated on a stool in the club in front of a small crowd.
He can be heard joking about how he "used to be a comedian" and the reaction he receives when he walks into things.
"There's a perfectly good word called 'stop'," he said, adding: "Not 'oh-oh-oh-oh-oh'."
Mr Cosby was asked by a reporter for the US network NPR if he thought the #MeToo campaign would affect jury selection for his forthcoming trail.
He simply said: "I don't know!"
Mr Cosby's show was widely criticised on Twitter, with novelist Terry McMillan tweeting that she would not go along to such a gig even if she were invited.
Around 60 women have publicly accused the Emmy award-winning actor of being a sexual predator over five decades, but statute of limitation laws mean that only one charge was brought to trial last June, which ended with a hung jury.
Mr Cosby had enjoyed a family-friendly reputation for years before numerous sexual assault allegations came to light in 2015.