Canada professor on leave after 'mocking' student with anxiety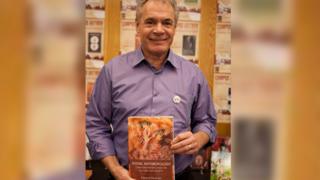 A Canadian professor is on leave after he allegedly mocked a student with severe anxiety during a class.
University of Guelph professor Edward Hedican is accused of directing an aide to "control" the student, whom he called "annoying".
The Ontario province college said Prof Hedican, who was a substitute teacher for an anthropology class, was on leave while it investigates the matter.
Some students in the class reportedly walked out mid-lecture in protest.
Prof Hedican was filling in for the usual professor of the 600-person introduction to anthropology lecture, CBS reported.
One of the students, Courtney Orser, told the CBC that Prof Hedican kept singling out the student.
She said the lecturer grew agitated when the student started playing with his chewing gum.
Ms Orser said the student said he has severe anxiety, and the fidgeting was a coping mechanism.
The student was accompanied by an educational aide, who are sometimes assigned to Canadian college enrollees with special needs or health issues.
The aide tried to intervene on his behalf, but Prof Hedican told the aide to "control" the student's behaviour, Mr Orser said.
The student and his aide left the class, at which point Ms Orser said she also decided to leave.
"Is the class over?" the professor asked Ms Orser, she said.
"It is for me," she said she replied.
A video of the interaction shows Ms Orser defending the student.
"I don't like to stay in classes where people who pay just as much tuition as I do get treated like that," she said to a round of applause.
Another student, Regan Devlin, also posted about the incident online.
She accused Prof Hedican of trying to "ridicule" the student with severe anxiety.
Professor Hedican was not immediately available for comment.
College provost Charlotte Yates said in a statement: "The University of Guelph is a community whose members respect and care about one another.
"We are committed to civility and diversity.
"I appreciate the care and concern demonstrated by students who have reached out to me and to other U of G administrators and faculty about this situation.
"Although I believe this was an isolated incident, we will remain vigilant to ensure openness, respect and inclusion at U of G."
---
More like this: